At least week's BMX night at the House of Vans in Brooklyn, N.Y., we were lucky enough to catch up with Cult pro Chase Dehart. On top of becoming a new father not long ago, Dehart is burning the midnight oil on BMX footage, finishing up filming for Cult's new "Talk Is Cheap" video and about to jump headfirst into filming for the new Dan's Comp video. On top of his packed schedule, Chase and Cult remain busy releasing signature Dehart parts that include tires, seats, grips, and soon enough, the Dehart signature 'Butter' frame. In between stylish lines and a mild N.J. winter, Chase sat down for the following interview. Read on.
ESPN.com: Where are you living at these days?
Dehart: I'm living in the same area as always: South jersey. As much as I hate it here, I love it here. Home is home.
How has this year's winter been treating you?
Really it hasn't felt like much of a winter. It's been cold, but nothing like it usually is. Even today, it's going to be up to 60 and sunny. Somehow you'll get a nice day to ride outside a few times a week, which really is all you could ask for this time of year. I'm not gonna complain.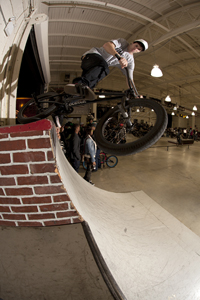 I recently saw you at the House of Vans Cult jam. How does an event like that differ from the other Cult events?
It was awesome, the turnout is always crazy there. As for events, I'd say that's kind of how they all go -- you go and hangout, ride with everyone, hand out product, throw a little contest or best trick, it's the best though. When everyone is together like that, everyone gets so psyched to be around each other, it's fun and I'm always glad to go.
And speaking of Cult, how has the new video been coming along?
It's coming along really good, as you could probably imagine. You got the team, Ryan Navazio filming and editing, it's got it all. The process has been the best too. It's one of those things where you don't really want to be over with. I think Robbie [Morales] is down for one last trip to kind of officially send it off too. It's kind of bittersweet, but I can't wait to see it all together.
Do you have any expectations upon the release of the video?
It's going to be official. Everyone is putting in the effort.
Are you working on any more, or upgraded versions of signature goods for Cult?
Yeah a few. My tires just came out with red and orange sidewalls, and in the next month or two, they will be coming out in white wall and gray wall. Also right now I'm riding a prototype Cult frame: the 'Butter' frame. I guess you'd say my signature frame, I don't know. The other frames were coming in with higher stand over heights. I wanted to keep it low and basically pretty similar to the old version of the OS frame with a few little things added. I'm real happy with it, it's exactly what I want to ride. Keep an eye out for it!
Dan's Comp is working on a new video as well that you're going to be a part of, have you started filming for it?  And if so, is it difficult to work on overlapping major projects like this?
Yup I'll definitely be a part of that. It's pretty crazy that there will be a Dan's DVD. The team is huge and filled with the best riders. Projects coming up on top of each other can be hard, but you just do what you can and try to balance it. I haven't started filming for it. Filming has just started for Dan's, and filming is coming to an end for "Talk Is Cheap," so I'll finish filming for "Talk is Cheap" and start filming for Dan's. Things kind of work itself out like that most of the time.
Does having a filmer that you are familiar with make things flow smoother?
For me definitely. Having someone I know like Navaz is the best thing for me. He understands what I want to film and what I don't want to film. He sees what I see. He's been one of the first people that I've had that with as a filmier. Lately, filming with him has been my key to getting footage. Ever since we starting riding together, I feel at my best potential.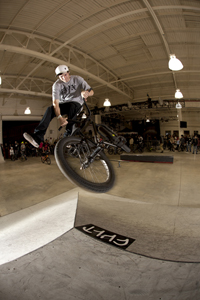 Who are some of your favorite people to film with?
Ryan Navazio, Will Stroud, Fran Sacchetta, Darryl Tocco and Dakota Roche come to mind.
You have recently become a proud father, how has this changed things with riding?
With riding, it changed absolutely nothing. I still am doing what I do with riding. It's better than me having a 9-to-5 job. I'm there for him a lot more than someone with a normal job. I'm really fortunate for that. I'm definitely the same old kid, but around him I'm a father for sure. It's pretty crazy how much instinct kicks in, it's been the best thing in my life.
Are you hoping he will follow in his father's footsteps?
Oh I don't know, it would be definitely be cool, but who knows. He might like rollerblading or some sh*t. It's his world, I'm gonna support whatever he wants to do. If he wants to be like his father, then yeah, I'll support him a little harder, haha. Nah I'm kidding, but I'm sure he'll ride bikes or something like that. My house is filled with all kinds of toys for me and him. I get into anything I can get my hands on so, I'm sure he'll be no different.
Do you have any other plans for the year of 2012?
Mostly just what we talked about, filming, going on Etnies and Fox trips and tours. I'm going to start working on a Dig magazine interview with [Rob] Dolecki also. I just found out about that and I'm hyped. I'll keep toying around with HotButter on my free time, whatever pops up in between all of that. This year will be busy for sure, which is fine with me. Thanks for the time Terra and ESPN! See you around soon.