For a brief time in our modern era of street style snowboarding it seemed as if Canada's most promising jibbers were headed in the direction of inline skating. Their outerwear was horrific, they edited their video parts to food-court gangster rap hits, and did the rollerblade hop onto handrails.
Fortunately for urban fans everywhere our great brethren to the north finally launched themselves into modern times and dropped the tacky wanna-be gangster posturing, and with that turn came a new breed of Canadian rail sliders. Among the top of the new highly skilled rail dancers is a young man who goes by the name of Jake Kuzyk.
Kuzyk has been humbly stocking hammers for the Videograss crew for the last few seasons, but really upped the ante with his part in this year's movie "Retrospect." Now that he's on the verge of complete snowboard stardom we decided to call up the well-mannered marauder from Manitoba and find out what makes him tick.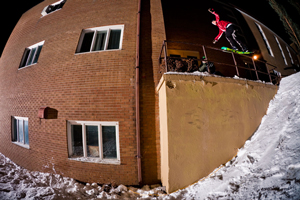 Hey Jake. How are you?
I'm good. I'm sitting here packing my bags.
Where are you headed?
I'm in Quebec City right now, but I'm going to Helsinki this afternoon.
Who are you going there with?
I'm going to film for my Videograss part, but I'm going with a bunch of Salomon guys.
Does that make you feel like you're cheating on K2?
[Laughs] No, it's just all my friends -- they were all going to go over, so I figured I would join their crew.
Nice. I heard you were with Jed Anderson when he filmed his Real Snow part, is that something you could see yourself doing?
Real Snow? Wait. did we just jump right into this interview?
Yeah.
[Laughs] Okay, perfect. The whole time I was helping him, I was like, damn this is crazy! I don't know if I could do this. I watched Jed land every trick. It was so insane and so much work went into it, and he didn't even get third, which is crazy to think about.
When we were filming everything I was just thinking: He's going to win for sure. For him to not even place in the top three really puts into perspective how insane the contest is. I would do it for sure, but I don't know how my s--- would stack up against everyone else's.
It concerns me that you don't have enough flare. Maybe we could make you look like a gangster or a rock star?
Um, I like clothes. I like gear as much as the next person. I have a way I want to look, but I guess maybe it's just a little more pants and sweaters then the next guy.
A lot of the Salt Lake guys have guns in their edits. Is that the new style?
I don't think that's people trying to look badass. Really those zones are out in the middle of nowhere -- you have to ride a snowmobile out to them. So I think it's just sort of being a redneck more then anything. They get excited about cutting down trees, setting stuff on fire, and shooting guns.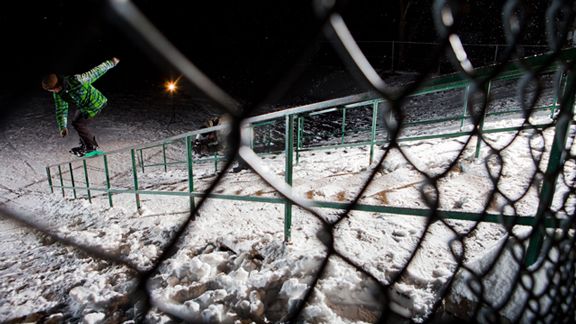 So they aren't worried about gang warfare in the woods?
[Laughs] No, I don't think so. I think it's more recreational.
How has this winter been treating you? Are you staying busy?
Yeah, for sure. I've been filming a lot and I don't have nearly as much footage as I did last year by this point, but I'm a lot happier with what I do have. I've just been hitting a bunch of rails, but hopefully after this Helsinki trip I can go back to BC and ride my snowmobile around and jump my snowboard into some powder.
Has this season been a breakout year for you after your part in "Retrospect"?
I've filmed with Sandbox for years, and that was really cool because I got to learn how to actually film a video part, but last year was the first time I filmed with the same crew all winter for a bigger production. I went on lost of trips and filmed as much as possible, and shot a lot of photos and I'm super happy with how everything turned out.