The time spent on the road as an FMX professional creates some truly unique experiences that you'll have for the rest of your life. Capturing these moments in time is key, so one day, you'll be able to tell your kids the crazy stories of your life in FMX.
That is exactly what Czech FMX rider Libor Podmol decided to do.
He took a camera with him throughout his travels in 2010 to document his life as an FMX globetrotter. The footage he created documents the ups an downs of what an international FMX rider encounters while trying to establish himself as a fixture in the sport of FMX.
Podmol took this footage and decided to create a new FMX documentary entitled "Tomorrow Will Be Better," slated for release later this year. While in Southern California to soak up this exceptionally warm weather before heading back to his homeland, I had a chance to catch up with Podmol and this is what he had to say:
ESPN.com: What have you been up to lately?
Podmol: Chilling, riding. We are in the final stages of our documentary movie "Tomorrow Will Be Better." Other than that, I'm just enjoying living in America, watching my little man grow up, with Supercross on the weekends and freeriding as much as I can. You know, just a busy European in America.
Are you living in Southern California full-time?
I like to spend the winter here, since back home is very cold. I stayed here for four months. Last time I flew here, the border patrol agent told me that I'm in the U.S. too much. He said that I shouldn't be flying to the U.S. so often or they will not let me come back into the country, which is no fun.
When do you plan to go back to Czech Republic, do you have shows booked up?
Yes it all starts in the end of February. I will fly home to Europe for the start of the Masters of Dirt event in Vienna. Then the first event of FIM World Championship and then I'm just busy.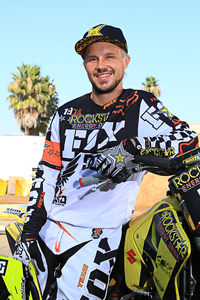 What's the difference between American shows and European shows?
Well actually it's difficult to tell for me, since the only contest I did in the USA was the Dew Tour Speed & Style and the ASA World Championships at Pomona, Calif. They were both super fun. The setup of tracks were huge for me, but I was surprised that there was not that many people in the crowd, which sucks. No crowd means no money, which means not much TV, which means the sponsors are not happy, which means the riders are not happy. It's all a circle. I feel like FMX was more popular in the U.S. a few years ago than now.
You've also been working on producing a video documentary about you, can you tell me about that?
That's been a huge project. The movie is called "Tomorrow Will Be Better" and it's not just about me, it's about FMX in general. It's a true story about traveling, meeting people, winning events, sponsors, losing events, getting hurt, comebacks and winning the FIM World Champion title. Some of the other guys in "Tomorrow Will Be Better" are Mike Metzger, Robbie Madisson , Rob Adelberg, Jim McNeil and many other guys which we met through filming. I hope it will help our sport gain exposure globally. This movie isn't just for FMX fans, but for everyone who likes a cool life story and a good movie.
How long did you film it for?
We filmed all of 2010 traveling all over the world at events like the FIM World Championship, Red Bull X-Fighters, MODs. All of 2011 was about post production, sponsors, distributors, finding a good crew for PR, etc. Post-production is definitely a lot more work than the actual filming.
What are your plans for production?
In the beginning, it was kind of difficult to find a distributor since this is a new concept and no one knows what to expect. Than we finished "Tomorrow Will Be Better" and sent it to the distributors and they liked it! Now we have a few distributors waiting in line and we are choosing the best one. What I can say now is we will be in all cinemas in Czech Republic and Slovakia, and we're waiting for the next countries in Europe to get on board. Our plans are to get in as many cinemas as we can, as many countries as possible, then onto iTunes and television. We are targeting all of Europe, South America, Asia and USA.
Do you have plans to premiere it anywhere?
For sure we will have a big one in Prague with all the celebrities and a demo to help promote the PR.
Well good luck with your film, best of luck in 2012.
Thanks, mate, you too. I would like to thank all my sponsors and good people around me. Without them I couldn't live my dream! And big thanks to our movie partners because without them there would be no movie. You can check out the trailer for "Tomorrow Will Be Better" at www.liborpodmolfilm.com
xgames.com