We spotted Jeremy "Twitch" Stenberg riding in the hills of Temecula, Calif. earlier this week. Twitch hasn't hit jumps since his horrendous crash during X Games 17 Speed and Style finals, which left him with a broken right heal, left tibia and L2 vertebrae. Needless to say, Twitch was super pumped to be in the saddle again.
Mother nature was kind enough to douse the hills with rain, setting the stage for prime riding conditions. This prompted Twitch to invite some of his friends, such as Robbie Maddison, Doug Parsons and Rich Kearns, to invade the local hills. There is nothing quite like the feeling of riding fresh soaked trails and dirt jumps with your buddies.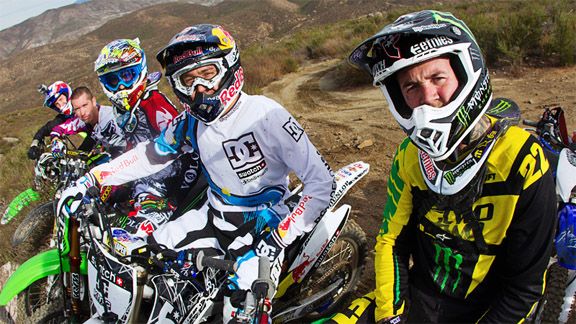 As for how Twitch was feeling after his first ride back, he said "I was a little sore, but that's expected for the first day back. I can't wait for more rain so I can go shovel the hills." Twitch is ahead of his recovery schedule, and is eager to make his mark in 2012.
xgames.com