Rennen Design Group, located in Middleboro, Mass., is a rider-owned BMX company that specializes in what can most simply be described as high-tech BMX parts and training tools. Founded in 2003, Rennen was started after owner George Costa received his master's degree in Mechanical Engineering from Massachusetts Institute of Technology. George's background in robotics and mechanical engineering has led to some of the most advanced gears in BMX. Riders can choose from 22t-52t and can gain even more precise gearing with Rennen's decimal sizes: .1, .2, .7, .8, or .9. Some may balk at this precision but for those who spend their days training or like to have the most dialed bike, Rennen's technology is a way to bring their riding to the next level.
Born in Fall River, Mass. and riding BMX for over 20 years, George has always pushed technology within BMX. As a kid, George was making mods as far back as he can remember. In the early '90s, George took a Cyclecraft and an old mountain bike from the shop he worked at and had the cantilever mounts welded on. To boot, he had the integrated seatpost clamp put on as well, in turn, having the most dialed bike at any New England BMX track. In another modification, George drilled out the brace of the Answer Profork brace to lighten it up.
George elaborates on his Profork modifications: "I took out all of the elastomers in the forks and put skateboard truck bushings to stiffen them up." Not all of his experiments were successful though -- the time he cut down his DK quill stem to lighten his bike was a lesson in design he won't ever forget. George cut down his stem to an inch without realizing the connection point was now situated poorly. His handlebars ripped off after the first jump at the now defunct Rocky Hill BMX Track in Rhode Island.
Throughout high school George raced competitively but BMX took a backseat when he eventually enrolled at the University of Massachusetts Dartmouth for mechanical engineering. Extremely competitive, he took what he learned from the track to college. "If it wasn't for racing, I probably wouldn't have done as well in school. We were so competitive when we were younger, all we did was go ride and talk crap to each-other. I took that attitude to school and people were really weird when I talked bad before a test but, you know, that helped me."
While receiving his undergraduate degree, George worked for Titleist, the golf ball and golf accessory manufacturer located in Fairhaven, Mass. Here George got involved with robotics and found what really excited him. "I built this automated machine that put stickers on a golfball for testing purposes. When I finished I was dead set on just doing robotics. I applied to four grad schools and got rejected from all of the schools I applied to except MIT."
"At MIT I did work for Caterpillar corporation but once I graduated I went to work for a defense contractor in Cambridge called Draper Laboratory. I worked for them for six years, three of the years I did Navy Trident Mark 6 missile work, which was nothing too crazy, it was mainly a lot of computer simulations of electronic boards but the other three years I did some really cool stuff. I built a couple different robots." Knowing he worked well building systems that require a deep understanding of mechanical and electrical engineering, George set out to develop G-Cog and while still working at Draper Laboratory, George founded Rennen.
While extremely precise gears are Rennen's bread and butter, the G-Cog, a BMX power meter, is where George Costa's passion lies. Currently used by BMX coaches and those that can afford it -- the whole set-up, which includes software, ranges from $499-$1499. The patented product measures all of the data a serious BMX racer could ever want. Originally a hub where data could be accessed via a USB cable, Costa and Rennen developed a cog that could measure data and be transferred to software which would output the data in a readable format. The software allows you to look at each data separately, including speed, torque and angular velocity. You can even see rider wobble, which measures how much a rider moves side to side.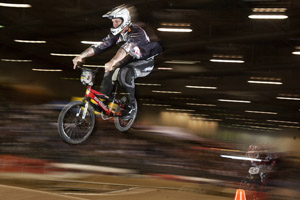 This technology is now used by coaches of federations internationally and boasts former AA Pro and current BMX coach Greg Romero as a consultant. According to George though, one thing stands in their way, "Since it is such a new technology it's tough for people to believe in it or trust it. Our biggest hurdle is dumbing it down, to make it so people can understand and use it."

New for 2012 is Rennen's IT (Inertia Training) System, or, Project 187. The product is a training wheel for BMX racing. You can stack plates and in turn, change the inertia of the wheel. When one does a sprint routine you get used to the weight and once the rider goes back to a regular wheel, "it feels like a turbo boost." According to George, the number one way to get faster is to do sprints and with the IT System. The rider can simulate the workout of an uphill and downhill sprint all while training on flatground. The base wheel, which can handle 34 lbs. total, weighs 6 lbs. and comes with 11 lbs. of weights. In addition, the weights can be staggered in 2 lb. increments. This adds a new dynamic -- riders can warm up and then vamp up to a given weight, without changing their gearing. Essentially it allows you to keep your race gear without changing your push to pull stroke. As of writing, Project 187, is now available for pre-order.

You can check out Rennen and G-Cog on the Web.