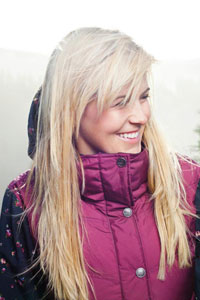 There was a rumor going around last year that Sarah Burke was going to be added to the Lib Tech NAS team (Narrow Ass Snowboards, its ski line). When I heard that, I thought, "Yeah, no doi." The fact that Lib Tech Snowboards -- home to Travis Rice, Mark Landvik, Jamie Lynn, et al -- had never had a female on its team didn't even raise my eyebrow. This was Sarah Burke, after all.
On Thursday we lost Sarah, one of the most genuine and inspiring figures snow-sliding has ever been graced with. Nine years ago Friday, we lost another in Craig Kelly. This week, after a monthlong dry cycle, it has started to snow.
At Whistler, Sarah's home mountain, there is snow in the forecast for the foreseeable future. Up at Mount Baker, Craig's home mountain where he won three Legendary Banked Slalom titles, 5 feet of snow have fallen since Saturday.
I'd like to think Sarah and Craig had something to do with turning on the tap up there.
This weekend, from the Canadian Southwest and U.S. Pacific Northwest, to the Smash Life! Banked Slalom for Aaron Robinson, Killington Dew Tour and Chamonix Freeride World Tour, take advantage of this white, fluffy bond that transcends gender and number of planks underfoot.
Shred one for Sarah. Slash one for Craig. Let out a woot for A-Rob. They'd do the same for you, whoever you are.