Having been on the invite list of the now-canceled Red Bull Linecatcher contest, Tanner Rainville made the trip over from the U.S. to Switzerland for a week of training before the event. When news came through that the competition had been called off due to snow conditions, ESPN Freeskiing caught up with Rainville to get his thoughts on what could have been and his plans for the rest of his season.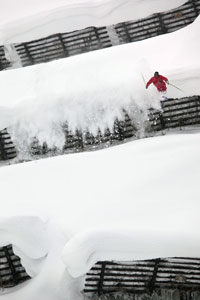 "I'd flown over to Switzerland at the beginning of January. I was over in Grindewald which made for a good choice as two and a half meters of snow fell that week," says Rainville. "There was powder everywhere. Usually you see another film crew in such a zone, but there was no one there." Although enjoying the solitude of a solo powder mission, Rainville was disappointed to hear of the contest cancellation. "I'd spent some time in the park back in Breckenridge trying to get a few tricks on lock and was really looking forward to trying to make an impact, especially considering the talent pool that Red Bull had invited for the event."
Despite the slow start to the winter season in the U.S., Rainville was quick to point out how lucky he feels to be based out of Colorado. "The best thing about Colorado is that it's huge with so much terrain to explore. In early November I was already hiking and snowmobiling in the San Juans, and Breckenridge got its park up and running so early that I could get straight to dialing tricks."
As his trip to Europe comes to an end, the pace doesn't slow as Rainville looks toward the SIA tradeshow later this week in Denver, Colo. "This year I've got a new goggle being released with Electric that will be on display in Denver for the first time," he says. Talking of skis, his sponsor Klint was only formed last year at the same ski and snowboard industry trade show. "For once I feel that my input is valued toward the design and testing of new skis. Instead of it being a one sided deal, I really feel involved in the company and that I love."