Chapter three of Jeremy Jones and Teton Gravity Research's Further Unplugged series begins a two-part story about a backcountry mission that was epic for the wrong reason. The webisode meets Jones, Xavier de Le Rue and ski mountaineer Jimmy Chin in Jackson, Wyoming at the tail end of a storm cycle. The superstar freeride crew has their eyes on filming some big lines in the Teton backcountry once the weather clears, but fate has other plans for them when a recon day goes seriously astray.
The Teton trip was supposed to be epic because it brought together three of the world's foremost ski/shred alpinists with the potential goal of climbing and riding the tallest peak in the range: The Grand Teton. Jones brought the Teton-savvy Chin into the mix as the group's unofficial guide.
"I was just showing them around a bit," said Chin, a humble Jackson local and groundbreaking adventure photographer and filmmaker. "Jeremy and Xavier are very capable in the mountains so 'guide' would be a major overstatement."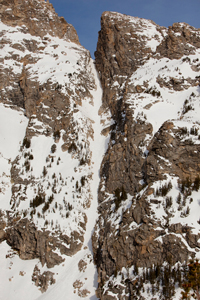 The trip marked only the second time de Le Rue had been to the Tetons, so no doubt the Frenchman needed some help focusing his window shopping for possible film lines.
"The Tetons are very impressive," said de Le Rue. "Coming back to Jackson after a bunch of years definitely inspired me. There are a bunch of sick looking lines around there."
The crew wasted no time finding one such sick line on their first day exploring Grand Teton National Park after the storm cleared. The posse triple teamed the Sliver couloir, "A relatively mellow line with easy access from the valley," describes Chin.
"We checked out the Sliver couloir as a recon mission to see how things were looking higher up," said Chin. "We had been tracking conditions and taking our time getting a feel for the crew and the snowpack, but we all knew that we had to go up and check out snow conditions to really know what was going on."
As Chin recalls, the avy danger forecasted for that recon day was not too high.
"We weren't hesitant to go climb the Sliver," said Chin. "I can't remember exactly what the danger rating was that day but it was nothing out of the ordinary. Or, at least not a rating that had kept any of us from going out into the backcountry before. Avy ratings are only one indicator of many that we pay attention to."
The descent of the Sliver goes as planned with all three athletes safely ripping the line, but the day's adventure doesn't end with the high fives at the bottom. A serious sucker punch from the mountain gods awaits as the crew makes tracks for the trailhead. Tune in for the conclusion to the story in the fourth of TGR's Further Unplugged series, coming next month.