With his country boy demeanor, gold rush facial hair, and gun-fighter-under-pressure cool, Brandon Cocard seems like he would be most at home riding wild ponies through cowboy country. Yet this billy-goating mountain man gets just as busy in the streets as he does in the steeps, charging everything in his path with effortless style and positive vibes. Cocard put down hammer after hammer in this year's Capita movie "Defenders of Awesome," opening the door to what should be a long and impressive snowboard career. We caught up with the new Portland transplant to see what his next move is and what he likes about living in Stumptown.
Brandon, how are you?
I'm good. I'm at Airblaster right now.
What are you doing?
Helping out with some of the gear for two years from now. Just doing some R& D and some modeling.
Oh? Some modeling, huh?
[Laughs] Yeah, my modeling career is really taking off right now.
Hopefully in a few years you won't even have to snowboard.
Yeah, at least not for money.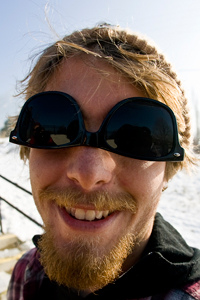 Where is home these days?
Right now I'm living in Portland, Oregon, but I'm Truckee [California] for life. I got a new spot and just chill out here in the summer and fall. In the winter I hit the road.
So did you get some tight pants and a fixie so you could blend into the Portland scene?
[Laughs] Yeah, exactly. My pants turned into really short shorts and my bike got really tall.
I have this impression that you're a wild mountain man who lives off of berries and deer carcasses. Is that close to reality, or not?
That's how I was raised, for sure. I was raised by a bad ass mountain man that I like to call my Dad. He took me camping and fishing and showed me how the world works outside of the city.
I was surprised that you had so many rail shots in your video part considering how wild you are. I thought you would be ice axing your way into chutes and stuff.
Ice axing into chutes? That's a little too gnarly for me. I just like rails. Growing up in Tahoe we have access to so many good parks with sick rail setups, so anytime there isn't powder we ride rails and park jumps. Back in the day I looked up to the rail guys like JP and Jeremy, so once I got the chance to film it was just natural for me to hit handrails too.
Do you have direction you would like to see your snowboarding go in or are you trying to rip everything?
You can't really hit rails forever. It seems to be a little bit of younger man's game. I think as your body gets older you have to focus more on riding powder and getting into the mountains more.
The last few years you have filmed for team movies. What's the next step for you?
Well it's kind of up in the air right now. I have my fingers crossed though -- I have been talking to some people about some opportunities that would give me a chance to ride with some of the people I have always looked up to. I can't really put out any names right now, but it's a possibility that next year I will be with a really sweet film crew.
If you could do whatever you wanted, what would your ideal season look like?
I would probably go up to Baker for a couple of months then head to Tahoe. The thing about living in Portland is you can't really film a part around here in the winter. Meadows is cool but it doesn't have as much variety as Truckee. The good thing about living in Portland is that the airport is ten minutes away so it's super easy to travel, so in my ideal winter I would just travel to wherever the snow was good.