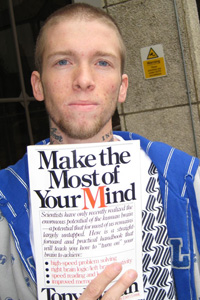 Jereme Rogers has encountered a rocky road in his attempts to return to pro skateboarding, and he hit another big bump Thursday morning when he caused a stir at the Affinia Shelburne Hotel in New York, reportedly running naked from his room and damaging framed artwork in the hotel's 11th floor hallway.
Detective Brian Sessa, a spokesperson for the New York Police Department, confirmed that Rogers, 26, was arrested and has been charged with criminal mischief and unlawful possession of marijuana. According to a report in The New York Daily News, Rogers is also alleged to have been high on angel dust and taken to Bellevue Hospital Center for treatment.
The incident is not the first high-profile display of bad behavior and public nudity from Rogers, nor is it the first sign of substance abuse problems. In June of 2009 Rogers went on a mushroom-fueled bender, preaching naked from a rooftop in Redondo Beach, Calif. His sponsors, including Plan B Skateboards and Famous Stars and Straps, released him from his contracts shortly afterwards, and Rogers announced his retirement from professional skateboarding on June 17, 2009, ostensibly to pursue a rap career.
In June 2010 Rogers spoke with ESPN.com about his return from retirement, the launch of his new company Selfish Skateboards and his career in hip-hop, telling Chris Nieratko, "I did a whole career where I danced inside the lines, was as humble as they wanted me to be and made the brands money. This time I'm going to do a lot more of being the brand, forming brands and companies and things like that. I won't really be worrying about anyone's opinions or caring what core or mainstream audience opinions are -- things of that nature."
In December, he appeared to be back in top form, and was featured in a SkateboarderMag.com video skating with his longtime friend and former Plan B teammate Ryan Sheckler at Sheckler's private warehouse skatepark. But the incident at the Affinia Shelburne Hotel comes just days after Brian Wenning, a former pro on Rogers' Selfish Skateboards team, released a hate-filled and accusation-filled video on YouTube, featuring rappers Rich Mahogany and Pryme Prolifik, the first public sign of new problems for Rogers.