Wabasha, Minn., is one of those towns where the residents wave at each other from behind their steering wheels and routinely practice other gestures of Minnesota Nice. It's a sleepy town -- population 2,500 -- on the Mississippi River, where Ann Margret whipped snowmobile donuts around in the movie "Grumpy Old Men" and the locals called me "darling" for not taking sugar in my coffee.
But what accounts for the two generations of dirt-jumping BMX professionals converging on this unassuming dot in the Midwest on a chilly evening in September? Apparently, the dirt here is just that good.
It's the type of place that has Red Bull written all over it: big money poured into an authentic action-sports event designed for and by top-tier athletes. Product placement? Sure. But it's more than that. It's about fostering progression and respecting roots. It's about cementing reputations while maintaining humility. It's about mimicking a place and a time in a sport, and ultimately, it's about having fun with friends.
The spirit and characters in Wabasha are eerily similar to the setting at this year's "New Year. No Limits." world-record distance-jumping playground in San Diego, where two athletes -- Levi LaVallee and Robbie Maddison -- have also envisioned huge ideas that they plan to execute on live television Saturday (11 p.m. ET, ESPN, ESPN3).
But first, let's go back to Wabasha, site of Red Bull's "Dream Line" -- a BMX dirt contest at the Coffee Mill ski hill -- and the vision of two-time X Games medalist and winner of the Dew Tour cup in BMX dirt, Anthony Napolitan.
Napolitan grew up riding trails in Youngstown, Ohio, but he is perhaps best known for being the first in BMX to land a double frontflip, which he did over the 70-foot MegaRamp gap at the 2009 X Games in Los Angeles.
Dirt riding in BMX has a long history, and it's because of that that it's perhaps the most sacred of all BMX disciplines. The level of care that goes into building and manicuring the berms, whoops and jumps is nothing short of perfection, so it's no wonder dirt riders covet a good set of trails.
Napolitan and "Dream Line" project manager Luke Seile originally pitched the concept to Red Bull as a place for Napolitan to, quite simply, have fun on his bike. What proceeded, I witnessed many of the riders telling Napolitan throughout the weekend, was nothing short of "the best thing to happen in dirt this year."
"I love watching my friends have fun on dirt jumps. I wanted to do a BMX dirt competition for the sport, and I wanted do it right because it hasn't happened in a long time," Napolitan says, while watching from the sidelines of the "Dream Line" course after knuckling a flip off the biggest jump in Wabasha and compressing his ankle.
"

Some people say, 'You should run -- get as far away from this as you can.' My goal is to do 'New Year. No Limits.' It's a dream. Go down swinging for your dream ... is what I feel.

"

-- Levi LaVallee
Lucky for Napolitan -- and for Maddison and LaVallee -- when it comes to one-off athlete projects and high-stakes, made-for-TV events, doing it right is just what Red Bull does.
Far from the parking lot venues of dirt contests past, Red Bull events carry a certain amount of clout. From the caliber of athletes (in the case of Wabasha, 16 of the best BMX dirt riders in history, handpicked by Napolitan) to the venue ("Best jumps ever" was a phrase being thrown around throughout the event), hospitality (plenty of food and Red Bull to go around), event format (jam-style, designed by and for the riders, judged by each other), progression of tricks (double backflips, 360 flips, front flips) and the media output (on-hand for this particular, private event: an athlete marketing manager, project director, press officer and two photographers, plus multiple video camera angles), the Bull is not one to cut corners in the name of athlete creativity.
And yet, Red Bull events are chill, stress-free and relaxed. "No announcers, no one watching, the barbecue is running -- it's all about good times," Napolitan says.
Presenting a facade of ease and nonchalance doesn't exactly come easy, but that's the beauty of having been at this game for a while. In 1987, the self-billed "world's toughest team relay," the Red Bull Dolomitenmann, became Red Bull's first event. The energy-drink company started sponsoring athletes in 1989 and now lists close to 600 among its ranks globally, spanning sports from Major League Baseball and the NFL to wingsuit pilots, snowmobilers, video gamers, Olympic track and field athletes and bike messengers. It owns two Grand Prix-winning Formula 1 teams, the New York Red Bulls MLS team and another international soccer club, as well as an Austrian hockey team.
All this courtesy of a pale yellow, fizzy-lifting drink that's still banned in Uruguay and Iceland for its potent formula (Norway, France and Denmark, long holdouts of the ban, were all won over by 2009 after alleged risks to health could not be proven).
These highly caffeinated "functional beverages" were originally concocted in Thailand by Chaleo Yoovidhya and his son, Chalerm, as a tonic drink called Krating Daeng: literally, Red Bull. Austrian entrepreneur Dietrich Mateschitz brought it to market in Austria in 1987 and promoted the brand worldwide soon after.
According to Forbes, Yoovidhya, a 49 percent stakeholder in the company, is the second-richest person in Thailand, with an estimated worth of $5 billion. Mateschitz, also a 49 percent stakeholder and reportedly the 208th richest man on the planet, owns Laucala, an island and private resort in Fiji. Chalerm owns the remaining 2 percent. The company sold 4.2 billion cans in 2010 and employs 7,800 people.
It is through its athletes and their personalities, innumerable events and projects that Red Bull has seen much of its success. Concepts for projects and events are imagined mostly by the company's athletes and run the gamut from night-surfing competitions to cutting sections of a 22-foot snow halfpipe into cubes to building a skatepark on a barge and floating it down the Mississippi River, stopping in towns and inviting local talent aboard along the way.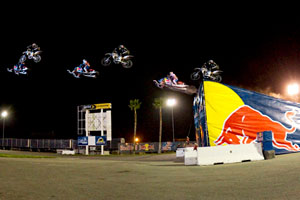 There are also homemade flying-machine competitions, break dancing contests and more traditional contests, even though "traditional" is hardly the word to describe something like the 2007 Air Race in Rio de Janeiro -- the biggest sporting-event crowd Brazil's ever seen -- in which stunt pilots navigate at low levels and high speeds through a course filled with "air gates."
There is some crossover, but athlete projects tend to be more "creative, let's do something amazing that's good for the sport and helps athletes push their limits" types of endeavors (Shaun White's game-changing "Project X," for instance, in which he built a secret halfpipe and foam pit in the Colorado backcountry and first learned a double cork, a trick that upped the ante at the Vancouver Olympics), says Red Bull North America athlete marketing manager Ryan Runke; whereas other events have a competition and a winner.
"The No. 1 goal for Red Bull is [to have] authentic athletes who are pushing the sport in any format, [be it] contests, film, whatever, and we want to be with them for their entire career," Runke says.
Get enough wool pulled over your eyes? Red Bull is able to sponsor and nurture creative, talented athletes because it sells billions of cans. Billions. Of. Cans. And the athletes? Seemingly across the board, they're just happy to be a part of it. The sale of cans fulfills lifelong -- and seemingly completely different -- dreams, and as sappy as it may sound, it's surprisingly not the Kool-Aid, er, Red Bull talking.
"I always wanted to be a pro snowmobile racer. I remember writing a report about it in the fourth grade," says Levi LaVallee, a happy-go-lucky 28-year-old from Minnesota who nearly lost his life practicing a distance jump for "New Year. No Limits." last December.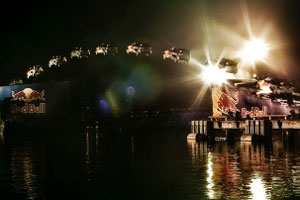 "The door's pretty much wide open, which is the awesome thing about Red Bull," Napolitan says. "They listen to their riders, we listen to them, it's a huge awesome family."
What began as a series of "Red Bull Experiments" on New Year's Eve 2007 started a chain reaction of world-record attempts across action sports. Boosting into 2008, freestyle motocross rider Maddison set a motorcycle distance-jumping world record by soaring 322 feet over a field in Las Vegas. Months later, BMX rider Kevin Robinson launched 27 feet out of a quarterpipe in Central Park in New York and Ronnie Renner set the record for highest air on a motorcycle on a specially built quarterpipe on the Santa Monica Pier in California (59 feet, which he broke by four feet in Chicago a year later).
The following year on the Vegas strip, as part of "New Year. No Limits," Rhys Millen attempted to backflip a truck and Maddo set another record for a 96-foot step-up/60-foot step-down jump onto an Arc de Triomphe replica. Travis Pastrana threw his hat into the records ring in 2009, jumping his rally car 269 feet over Long Beach Harbor in California.
"Some people say, 'You should run -- get as far away from this as you can.' My goal is to do 'New Year. No Limits.' It's a dream. Go down swinging for your dream ... is what I feel," LaVallee says.
On Dec. 16, 2010, LaVallee had already broken the snowmobile distance-jumping record when he crashed. His crew had fixed carburetion problems earlier in the day but had to do further adjustments when the sun went down and temperatures cooled.
When he was in the air and began to descend to the landing ramp, he had to angle the nose of his sled down to compensate for wind lift. Only this time, when he gave it gas to even it out in the air, the machine bogged and just kept nose-diving. About 105 mph and 360 feet later, he jumped off the front of the sled and "took a bouncing pattern, like a rock skipping," he says.
LaVallee doesn't remember the first three days in the hospital, which he thanks God for. ("Had I remembered, I probably would never want to jump my snowmobile again," he says.) He collapsed both lungs and fractured his pelvis, ribs and three vertebrae. He was back on his sled three months, to the day, later.
A year later, after a steady year of brain retraining (three days per week, courtesy of Red Bull), wind tunnel testing and a new, bigger engine from Polaris, he's ready to try it again. This time, he'll do it alongside Maddo, literally, as the two plan to jump side by side -- Maddo going for 400-plus feet, LaVallee for 362-plus feet -- at this year's installment of "New Year. No Limits." in San Diego.
"I must be here because I'm meant to do this. To be chosen to do the New Year's jump -- especially for such a small sport like snowmobiling -- is such an honor. I got another shot at it. I've got the right people around me and everything I need to do this," LaVallee says, with zero hesitation.
Maybe he's right. Sure, people crash on live television. It happens. And sure, hitting a ramp at 100 mph is dangerous, even, as he explains it, "scary every time." But like LaVallee asserts, "the way Red Bull goes about preparing us, you know it's possible and you know you've done everything you can. Everyone knows their role, it's just about executing it. We're not shooting from the hip out there."
Though the danger spectrum at Red Bull events ranges from the relatively tame, a la "Dream Line," to the jumping-a-motorcycle-400-feet-over-water-alongside-a-snowmobile, the company is unique in that it is capable of achieving such wildly contrasting objectives -- for the same reasons and (fingers crossed) with the same levels of success.
"Red Bull gave me the opportunity to try the distance thing," LaVallee contends. "You throw it out there, and they're right there behind you. If I break last year's record by a foot, I'll be high-fiving and toasting Red Bulls."