Derek Cook is a FMX rider out of Oklahoma City, Okla. Derek hit his first ramp back in 2002 and was hooked ever since. Now an established fixture on the FMX circuit, Derek has been to Bangkok, Thailand for the Asian X Games and has ridden for Matt Hoffman's Danger Defying Daredevil Tour. He recently just got back from a six-city tour in Russia where the spectator attendance was nearly 385,000 over six stops. I sat down with Derek to ask him what it was like to ride in front of that many fans and what it means to ride for freestyle motocross for a living.
ESPN.com: What have you been up to lately?
Cook: Not much. This is the slow time for me now so I've been hanging with my family, and preparing for the beginning of next year. I just got a new bike so I'm getting it all dialed in to freestyle.
You recently got back from Russia, how was it? It was my first time going to Russia. I flew into Moscow, did some sightseeing and then got my bike set up to ride one of the training facilities in Moscow. Once I dialed in the bike and some flips, we were ready to go for the tour.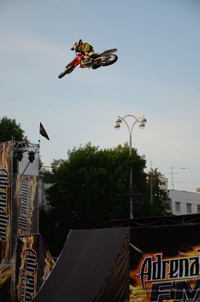 What was the tour?
The Sobe Adrenaline Rush FMX Tour
How many cities did you travel to?
We went to Nizhny Novgorod, Yekaterinburg, Chaliabinsk, Ufa, Samara and Volgograd.
Who were the riders?
The Russian Riders have a team called The Ferz, which consisted of Nick Ivankov, Mihail Yarigin, Vladimar Yarigin. There was also one Italian rider named Vanni Oddera.
Was this the first time those cities had seen FMX?
No they actually did this same tour a year ago, but they wanted to bring in an American rider this year, and I was lucky enough to do it.
I heard there was some ridiculous spectator attendance at each stop?
There was a total of 385,000 fans over the entire six city tour. The most impressive was the last stop at Volgograd. There was 140,000 spectators.
What was it like to be riding in front of that many people?
Well at first I was warned to be a little bit cautious with my riding and maybe stick to my easier flip tricks. But honestly, as soon as I saw how many spectators were there, I couldn't hold back. The amount of energy that 30,000 to 140,000 screaming fans can bring is enough to make you flip the switch and just throw down your best tricks.
What was the crowd's reaction like?
We had to have security most of the time. I mean girls were crying, passing out over us riding. It was pretty crazy!
What was the craziest thing you saw or did over there?
I think just the reaction of how much they loved seeing FMX. It was cool to see people so into watching it. Usually back home, every one has at least seen it on TV or been to a demo, but in Russia, they don't really have a FMX community that gets national media exposure so it's like seeing it for the first time every time.