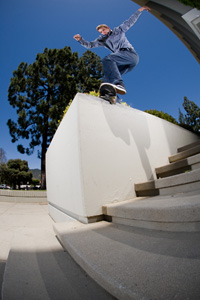 There's something about extremely tall skaters that is unbelievably pleasurable to watch. Maybe it's because their bodies move differently than most people we see footage of. Or maybe it's that we just don't see enough of their unique body types. Who knows? Who cares? Big dudes are cool to watch. And Zero skateboards' newest am, John Fitzgerald, is a big dude. So big in fact that he doesn't even know how big he is; that's huge! With a bunch of recent coverage and a video part looming on the horizon, big things are happening for this big boy.
Why do they say you look like Sloth from the movie "Goonies?"
My friend Donovon Piscopo took a photo and it blurred the face a little bit and he posted it on Instagram and that's where it originated. I guess there are a little similarities between me and Sloth. I grew up on "Goonies." I loved that movie.
How tall are you?
I don't even know. I don't really measure but if I was to guess I'd say 6'3" or 6'4."
Does it help by making big things seem smaller?
Never really thought about it but I'm super clumsy. I trip over everything. I guess stuff seems smaller because I'm a little taller.
Who are some of your other favorite tall skaters?
Brian Anderson, Ben Schroeder, Andrew Reynolds. Heath Kirchart is pretty tall, right? I'll put him on the list.
Do you ride an oddly small board like Ron Whaley did?
No, I ride 8.375 or 8.5 width boards.
Whaley has size 14 shoes and used to ride 7.5s.
That's insane. I couldn't even stand on those.
How did you get on Zero?
That Slap One in the Million contest got me sort of hooked up. I was talking to Jamie Thomas and everything was going good so I went on a couple of trips and it all worked out.
Do you think you'd be on Zero without the One In A Million contest?
It's tough to say. I'm not the one putting myself on.
But that contest helped get you some attention.
Yeah, that's for sure. It got the ball rolling for me.
Are you full am or are you still flow trash?
I just got put on so no more flow trash.
How did they tell you?
They gave me an ad in the last TransWorld magazine. I had an interview in the same issue and I didn't know I was going to become am when I did the interview. Jamie decided to put out the ad in the same issue and it was sick when I saw it. It was cool to actually see it in print.
You and Forest Edwards from Slap's One In A Million contest hang out a lot?
I don't hang out with him but I actually see him from time to time. He skates Chino park and I skate there a lot and I'll run into him. I get along with him, now. He's ripping so hard. It's rad to see him skate.
Was the tension just weird reality show bull?
I think it was that he's a really competitive dude and I think he wanted it really bad and it created a weird vibe. But I have no problems with him. I think he's a rad dude.
You were just on the Zero and DGK Fresh til Death Tour. What were some highlights?
Probably skating Woodward East. I've never been there before and it was gnarly how much stuff they had. It was sick to watch Rodrigo TX skate. I'd never seen him in person. It was mind-blowing. Everyone skates really well in person.
The Zero "Cold War" video is going to be your first full part. How's that coming together?
It's good. I'm just skating and doing my usual thing. So far it's going good. I'm not too sure the exact release date but it'll be out in a few months or so but I'm skating every day and I have a good amount of footage I'm stoked on.
Whose part are you looking forward to seeing?
There's a couple. I really like watching John Rattray and Keegan Sauder so I'm looking forward to those two. I like their styles; they're just rad to watch. But I know Tommy [Sandoval] is going to have a bunch of gnarly stuff, too.
Are you related to F. Scott Fitzgerald?
Unfortunately, no. I know I'm somehow related to Wyatt Earp.
Have you ever met him?
Personally, no but I've watched "Tombstone," though.