Ronnie Renner is a renaissance motorcycle rider. He has parlayed his freestyle career into a daily adventure that sees him riding and representing dirt bikes all over the globe. Sometimes he even gets compensated for these two-wheeled endeavors. Knowing this, I had to find out what Renner was up to next and caught up with him on a typically busy week in Southern California while he was waiting to get an axle fixed on one of his trailers.
ESPN: What's going on these days?
Renner: I guess the best answer is, "What's not going on"? A little bit of everything. I seem to have created a nice little mess of freelance riding-esque projects. I don't know where to start honestly. I have stunt work for Hot Wheels, Day in the Dirt just finished up. And at the same time, the rain is falling and the hills are begging me to come out and start the freeride season off with pictures and videos. It's beyond a full-time job, that's for sure. At the same time you have to maintain all of the equipment and deal with the logistical side of things.
You have had a pretty long-term relationship with the Day in the Dirt guys, right?
Yeah. It's a Troy Lee thing. Troy approached me to go do that thing for him quite a few years ago. Maybe '01 or '02 was my first year going out there. It's just a killer time, it's no pressure and not until this year have I committed to doing a freestyle show or anything. It has just been all about hanging out and racing. I brought my little brother out in '07 and he actually won the big pro race, the coup de grace. I've got quite a bit of history there and I always try to keep the calendar clear for it.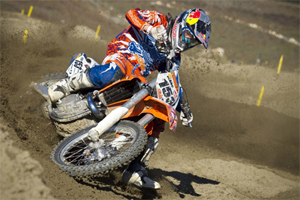 What's so special about going out to that thing?
It's just such a killer family vibe and a no-pressure event. There's nothing on the line. No championships, no titles. The grand prix races are really fun and the camaraderie is really great with the stunt industry and the Troy Lee and Red Bull family. So it's right up my alley!
Have you met anybody movie star famous out there?
Yeah, Matt LeBlanc. You know, Jeremy McGrath comes out, but that's not really movie star-ish. Not a ton of movie guys are into riding because they have got to be careful. Matt's one of the only ones I have seen hanging around out there. It's mostly the stunt world.
What's up with this Hot Wheels project you have been working on?
They have a really cool ad campaign called 'Hot Wheels For Real.' Mostly, it's a viral website marketing campaign, but I actually think it has a lot of possibilities for a full-feature Hollywood film one day. It's a really cool concept of the Hot Wheels training facility -- kind of like an Area 51. If anyone goes to Hotwheels.com I am sure they can research it a little bit. The cinematography and the special effects are unreal. It's a rad project to be a part of.
Was that truck jump at the Indianapolis 500 part of this whole thing?
Yeah, that's where they kind of debuted the 'Yellow Driver' and it was (X Games rally star) Tanner Foust. Theoretically, I'm trying to position my release to be at a quarterpipe event. I have just got to find the right time and place and backing for an event like that. The event was huge in Indy for Tanner.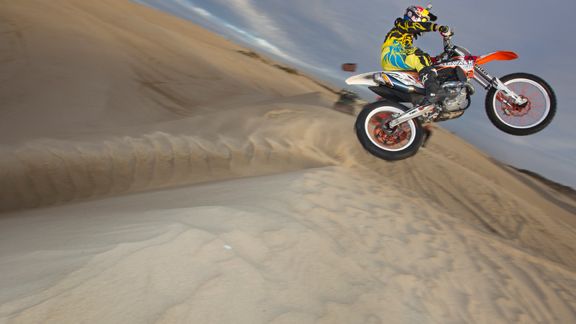 On the quarterpipe note: Do you have any plans to break your own quarterpipe record?
Yeah. I would like to break my own record, but it just kind of gets old breaking your own record. I'm not saying that to call out anybody. I don't carry a lot of weight with records and this and that. Until you have a set, measured height someone could go and build a fifty-foot tall take off ramp and jump fourteen feet above that to break my record. It comes down to me as just a visual thing. I just want it to be cool and for people to shake their heads and go "Wow, it's nuts." I guess I take a lot of pride in that because not a lot of guys are into taking that gamble.
If I do it again, I want to do it in an iconic place. Really anywhere around the world, I'm game to. I definitely have the itch, in fact I posted it on Twitter the other day -- that I had the itch to do it -- and I have never had so many responses on Twitter or Facebook. Even other riders and stuff and it wasn't hating or anything and everyone was being really positive and amped about it. So it justifies to me that there's still a want for it.
You have being doing the Ronnie Renner Freeride Tour for some time now and it is strange because you are one of the most accessible pro freestylers out there. What's it like to spend that much time with the fans and the public?
I try to be really accessible because what I have found about freestyle and freeriding is that whole balance. I can do both. Obviously I don't want to take the risk with the FMX and the ramps and the competition and stuff because I just feel like I am one of all the other guys. If I take my risks it is out in the hills and I think the sport has got to the point where it is more like the fans understand freeriding. It's accessible to them and they can take it at their own pace out in the hills. Freestyle has just gotten far away from that. So these events are just perfect to meet the fans when they are already out there. We have had quite a few people in the second season actually making trips based around our deal. I'm hoping that only grows and grows.
A lot of your former competitors and old cronies went from the two-wheel to the four-wheel route. You have any plans to do that?
My mind has a lot of plans for that, but my wallet says otherwise. I realized you have to have money for that. I mean you have to have money to ride dirt bikes, but it's a whole other level to do cars. Those guys are basically just rich dudes with a really expensive hobby. I really feel that Deegan and McGrath -- Twitch even -- they have gone there and proven that not only can they jump in the truck and figure it out really quick, but they can also attract a lot of fans in the pits and get attention on television. I am trying to use that angle and have had a few people interested, but don't have anything locked down so far. It's hard to make a commitment knowing that you are not going to make any money on the weekends and it's a lot of weekends. But if that's what I want to do then I have to make the sacrifices. It's a big boy decision I guess.

I think the sport has got to the point where it is more like the fans understand freeriding. It's accessible to them and they can take it at their own pace out in the hills. Freestyle has just gotten far away from that.
--Ronnie Renner
You were talking about your compound out at Pala and I know that over the last few years you have had a few kids come out there so you could mentor them a little bit. Is that something you planned or just enjoy doing to help the sport along?
If I could figure out how to make that the least bit financially smart, then I would love to do more of that. It just seems like I end up in the hand-out world of things.
Have you found any good young talent over the years though?
I have watched first hand some guys that have spent time riding with me like Bryce Hudson. The kid is a real go-getter and a nice kid and I helped vouch for him and now he is part of the Freestyle MX Tour. I helped him learn flips and stuff and now he is just skyrocketing. I don't know his complete goals or how far he plans to take it, but I have basically watched him start a career and that is really cool. Internationally, there's a kid called Christian Meyer from Spain. I had him and his dad out for about a week and a half and it was so cool to be doing KOD's next to a kid on an 80. Watching him flip and watching him progress and it was awesome, but reality kicks in and I still have my day job to do. The charity deals can only go so far because the charity deals aren't paying my bills.
Well I know you are busy making money so I will let you go, but I have to ask: What's the best part of being the world's greatest carnie?
Oh man. Just the fact that my carnie duties are not setting up and tearing down the Gravitron, but riding a motorcycle and basically having my hobby as a job. I am definitely a blessed man. I think that anyone who rides their dirt bike and gets a paycheck is blessed and should probably give themselves credit.
xgames.com