Taddy Blazusiak won it all in 2011, finishing with a sweep of the Las Vegas Endurocross on November 19 at the Orleans Arena. En route to winning his third consecutive AMA Endurocross, the KTM rider completed a perfect season, winning all eight main events over seven rounds, including the X Games gold medal in July. He also won the FIM World Indoor Enduro Championship and Erzberg, a famously treacherous extreme enduro in Austria, for the fifth consecutive time.
Despite denying his competition any shot of a victory, the Polish native said the competition was faster and it was a deeper field than he's ever faced. "I wasn't even thinking about the perfect season," he told ESPN. "Winning every single race is crazy but it doesn't matter what sport it is, it's difficult. I was taking it race by race and doing my job as good as I could."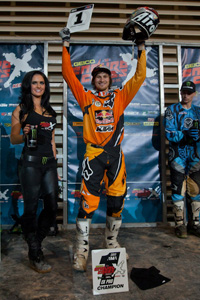 The perfect season even miffs Blazusiak a bit because he did it on a totally new bike. KTM riders have the largest choice of weaponry. The Austrian company offers more off road competition models than any other manufacturer and Taddy switched from the 250XS two stroke to the 350 SX-F in 2011, a gamble for a rider who didn't seem to be having any trouble crippling his competition.
"With the two stroke we reached the limit of the bike," he said. "It was hard to go any faster. The 350, stock, was as fast as my championship bike that we'd been developing for years. The rest was hard work. Racing is about being better and faster."
Mike Brown and Justin Soule, who earned the silver and bronze medals at X Games 17 in July, also finished the season ranked second and third overall, the best season placing for both of them. Both riders are still looking for their first career wins. Blazusiak is the all-time main event wins leader with 20 victories.
"Everything is just clicking together for me," Blazusiak said. "I'm the right guy in the right place at the right time." This weekend he travels to Genoa, Italy to begin his title defense of the FIM European Enduro Championships.
The 2012 AMA Endurocross Championships will expand to eight events with the series kicking off in Las Vegas on Friday, May 4th, the AMA Supercross finals weekend.
2011 AMA Endurocross Overall Points Standings
1. Taddy Blazusiak, 240
2. Mike Brown, 166
3. Justin Soule, 146
4. Geoff Aaron, 144
5. Cody Webb, 131