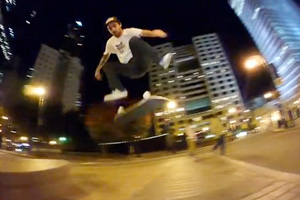 The Ipath team concludes their "Search and Enjoy" video series with some heavy sessions on Midwest parks that feature boulders in their design. Aaron "Jaws" Homoki, Matt Rodriguez, Ben Raybourne, Jon Goeman and Danny Dicola get creative in this clip.
Kayo TV's got a glimpse of the talented Long Beach native, Derrick Wilson at Da Playground training facility in Atlanta for DGK.
Fiveboro's Jimmy McDonald filmed a full part for éS in honor of their collaboration with Fiveboro for the Square Two shoe. With this part and McDonald's upcoming Fiveboro part, he's building some momentum. Could pro status be far behind?
Omar Salazar is building hype for his re-tooled pro shoe from Nike and the accompanying pro wheel from Spitfire. With products to promote, Salazar hit the streets and came back with this "Strike Anywhere" video. Good stuff.
The Atlanta Hates Us crew put together sick montage for Halloween with lots of fun skating including clips from Dan Plunkett and David Clark.
Johnny Turgesen, Mason Merlino, Kevin Kowalski and the rest of the Lifeblood crew conclude their Midwest World Tour with this clip of serious transitional ripping.
John Rattray introduces a contest for his blog, "The Predatory Bird" with this clip that includes some sessions outside the Black Box distribution warehouse.
New York photographer Brian Kelly may be the best actual skater of any skate photographer I've met to date. Show me another photog that can blast frontside halfcab heels over barrels and ollie benches that are Reese Forbes height. Kelly recently shot the photos for a Zoo York board series and introduced the boards by skating them along with Zoo Field Agent Kevin Tierney here.
The Toy Machine and Emerica squads pulled a stellar Halloween demo in the parking lot of an Active shop in Chino Hills, Calif. last week. This edit shows Leo Romero, Trevor Colden, Andrew Reynolds, Ed Templeton, Josh Harmony and more crushing the setup in costumed style.
Who likes Jake Johnson footage? I do! I do! Quartersnacks put together a tight montage of some older footage of Jake that still kills. You can't fake style like this. Johnson is true natural and original in skating.