Still the U.S. Ski Team's winningest downhill racer, Daron Rahlves has become a fixture in the freeskiing world since he retired from racing in 2006. He now films with Teton Gravity Research, competes in Winter X Skier X, and helps design new gear with his sponsors. The hybrid ski contest series he created last year, the Banzai Tour, is adding new stops for its second year. We tracked him down at the Reno airport baggage claim after he returned from a product development trip to Austria.
The Rahlves Banzai Tour looks like a mix of Chinese downhill, skier cross, and freeskiing. What's the story after the initial season?
It was a great success. There's a lot of momentum, so we wanted to expand. We added a fourth stop at Squaw this year. The race is all about the competitors and the terrain -- and it's really cool because it's not all invited racers. Anyone can sign up and do it. The race is in this year's Warren Miller film and we got Red Bull Media House on board to do a one-hour show.
Does the men's ski category have to contend with you at each stop?
I'm not competing in the race series, I only race in the superfinal of the last stop. I created this because it is my ideal race -- so I'm kind of bummed not to be competing. But people told me it wasn't really cool to compete on your own tour. So I'm just out there to support and get everybody fired up.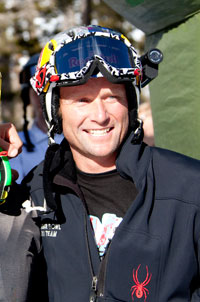 What's your plan for this winter?
I've been invited back to Winter X in Skier X, but I'm so busy with the kids [4-year-old twins] and the Banzai, I won't be able to show up with the sharp mental edge that you need. I don't want to go unless I have a good chance of winning, and last year was tough. So I am only competing in one other event this winter, the Red Bull Huettenrallye in Austria. Besides that I'll keep focusing on filming, keeping the Warren Miller connection, and filming with TGR. Last winter was good, but I only had two weeks to commit to filming in AK with TGR.
You are now Atomic's ambassador for the Atomic DIN 16 AT binding, which is coming out next fall. Have you skied it much?
Yup, I've got two pairs mounted up right now. I've put quite a bit of time into it. I usually ski on the Atomic FFG 16, it's the team binding, a really burly and strong binding. I wanted to make sure the new binding would be reliable like that. You want to have something on top, especially if you just worked hard to get there, that you can have confidence in, if you want to ski really fast, and hit a cliff, like something you can trust inbounds and then throw on some skins and head out the gates.
You called your descent of Shasta with Jeremy Jones over the summer the best run of your life. Really?
It wasn't the best snow -- it was just the whole experience. It took 8.5 hours to get up there, the essence of getting up there under your own power -- it was one of those epic experiences; tagging along with one of the best guys in the world. You get this surge on top, like this is awesome, and even though getting to that point was so brutal, you can't wait to go again. And, the snow was the best corn snow I've ever skied.