[Editor's note: Freeskiing as a sport is in a state of flux right now. So in this interview series, we're taking a hard look at where we are now and what's next for the sport. Stay tuned next Thursday for an interview predicting the world's next big ski destination.]
You'd have to be living in a hut in Slovenia to not be aware of the social media takeover that's happening right now. Sites like Facebook and Twitter have changed the landscape of how humans interact with each other. And since, this is a freeskiing site, we're obligated to point out that social media has also changed the way skiers conduct themselves, the way ski news travels, and the way athletes, resorts, and gear companies market themselves. So, to take a real look at the state of skiing and social media, this week we conducted an interview on Twitter with David Amirault (@ozskier), Aspen Snowmass' interactive marketing manager and formerly the online editor at Freeskier Magazine. Here's what we learned, and some of what other people chimed in.1
Twitter doesn't sleep.2 Set up the right alerts, just in case. Sometimes waiting until the AM is too late.
If Glen Plake was on Twitter, there's no doubt that I'd follow. That guy lives an interesting life and is an industry icon. Guaranteed that I'm not alone in that statement.
Remember, social is more than tweeting and a FB page. It isn't about the number of followers or fans, it's engagement and quality. Content isn't king, good content is.
Don't worry about the polish of your content, focus on its authenticity. People can see through marketing BS.
I believe that @MikeDski is the model for all to follow.3 Socially, @MikeDski hits on multiple endpoints. Video, events, bitchin' content, and gives value to his sponsors.
I think @WhistlerBlckcmb does a great job with social.4 I wish I had their budget and manpower. I like how @WhistlerBlckcmb constantly shares content from their audience.5 Also, need to mention my alma mater, @SundayRiver. What they do with the resources they have is great.
Atta-boys in social go a long way.
Twitter and FB are the mediums, crafting the messages takes time and money. Events, photos, videos aren't cheap. [For companies without a big budget, my advice would be to] arm a staffer with a smartphone, get @hootsuite, and allow people to live vicariously though your brand's eyes.
Pay attention to @SkiMagicVT this winter6. No budget, lots of soul. That will show in their social strategy.
Social graph information is the next big thing for marketers. Imagine you hit a site and it personalizes instantly.
Smartphones are going to get smarter, data speeds faster, we'll be able to share richer experiences through mobile.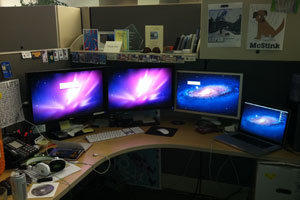 Social is all what you make of it. If someone sucks and tweets garbage, unfollow / unfriend them.

The stories you'd tell around a fire to your friends about your epic ski day are now happening online thanks to social. The conversations are still happening, now with a broader audience and are now rich with photos and video.

That's where social monitoring comes in. Conversations are happening around your brand. You need to listen.

For athletes, keep it real.7 Deliver some value to your sponsors and interact with your fans/followers.

Think about fans/followers like you would a newsletter open rate. You can have 1000s, but if they don't engage it doesn't matter.

---

1@dangbergeron: Love seeing this twitterview.

2@Columbia1938: #insomnitweeting

3@Juliancarr: Also, @codytownsend @ingridbackstrom @SteepSkiing.

4@WhistlerBlckcmb: Thanks for the shout out @ESPN_SKi @ozskier. We work really hard at social media and giving our fans/followers a voice.

5@Shelabo: Cough @sundayriver cough.

6@IMVermont: Very cool, great work Ski Magic!

7@Codytownsend: And don't beg for votes!