John "LJ" Strenio is a mainstay of Line's Traveling Circus series, the latest episode of which dropped Sunday. The 22-year-old Burlington, Vt., native has spent the last few years transplanted to Salt Lake City, where he moonlights as an English and film major at the University of Utah. In that time, Strenio has made a mark on the video landscape, with multiple appearances and segments in releases from 4BI9 Media, Meathead Films, and his first full segment in the new Poor Boyz film, "The Grand Bizarre," which is on tour now. We caught up with Strenio about reading, rails and running — Strenio completed his first marathon this fall.
You're in school right now, right? What classes are you taking?
I've finished everything else so I'm just in a bunch of 5,000 level English classes, which might a bad idea. I've got tons and tons of reading, but I'll be done soon. When you graduate from the University of Utah, are you going to stay in Salt Lake?
I think I'm going to head to Colorado, actually.
A couple years ago, I think you were driving to Colorado just for weekends at the end of the fall semester?
Yeah, that was crazy. I usually do that three or four times each season. I'm actually just about to buy my Colorado pass with a couple friends and we're geared up to do the same drill this season. We all plan class so we don't have anything on Friday. We drive all night Thursday and stay with friends. The ski community's tight, so there is always a place to stay. Then we drive all night Sunday back to Utah.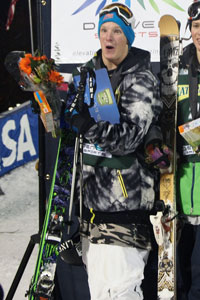 What was the process of filming your segment for "The Grand Bizarre"? Did you know going into the season that you'd have a full segment?
[The PBP staff] was bummed about the reception of "Revolver," so I heard about that all year. They wanted to give ["The Grand Bizarre"] their best. I didn't know if I'd have a full segment, but I knew they wanted to bring back the rider segments. I feel like normally the skiers are hungry, but this year, the Poor Boyz filmers were just as hungry. It was kind of tricky because the film schedule can conflict with the contest schedule up until about February. They'd be like, "Come hit rails," and I couldn't due to a contest. But, I definitely made a few long and intense urban trips between contests. I also got to go ski the backcountry in Whistler for the first time and do some cool park shoots after the contest season died down.
So you were doing urban trips during the contest season?
Yeah, I was in Minnesota for two weeks between Dew Tours. I was kind of wanting to ski park and practice, you know? I thought I could do urban for two weeks with Poor Boyz and then still have a week to practice. But then I heard they were having the Slopestyle World Championships. I knew I wasn't one of the top four guys in the U.S., but someone dropped out and I guess I was an alternate. I got a call two days before the contest in Park City. I was freaked out because I'd been hitting urban rails for two weeks. But I got a flight out of Minnesota with 48 hours before the contest. I was totally unprepared. It was negative 25 degrees in Park City. It was bluebird, but totally freezing. It was fun and exciting, but hectic.
What do you do when you have two days to get ready for the Slopestyle World Championships and you've spent two weeks eating doughnuts and hitting handrails?
It's kind of like riding a bike. You just get it back after a few runs. I have specific warm up jumps for the hits I'm planning. As long as I throw one big trick to get myself back, I can do it. In that situation, I wouldn't throw something new I've been working on, but I feel like everything I've got dialed in, that I've been throwing all season, comes right back.
Does the Olympics have anything to with your desire to compete or has it always been there?
I've always liked to compete. It seems like the last few years, I've really started to like it more and more. The Olympics definitely makes me more stoked on it mostly because I know I'm not at the point right now to get one of those positions. I just like that it's something that I don't excel at and I'd like to get better.
I heard that you just ran your first marathon.
I did. It was the Layton Marathon. It's a small town north of Salt Lake. I've always been a runner, but never done a marathon. Then my little sister told me she was running a half marathon, so I thought I better do a marathon.
How much did you train?
I tore my ACL in April, so I couldn't start training until July. I was running three to five miles a day in July. In August, I started trying some 10-milers. Half way through September, I could do 16-milers comfortably. I think I'm going to try and run one every year. The Traveling Circus guys actually filmed it. It will be in the next episode.
Not everyone can run a marathon.
I think anyone could do one. It's all about finding your pace. At the end of my marathon, I actually wanted to keep going to see how far I could get. But the pace I'd set for myself was too intense. By the end of 26 miles, I was exhausted.