Last month, I published a blog devoted to BMX brands selling and manufacturing US-made BMX frames. During the course of compiling that blog, I noticed that the costs of some US-made frames were actually becoming cheaper than that of some brands manufacturing frames overseas. And in the blog's intro, I noted that some frames, such as S&M frames made in the USA, were sometimes cheaper than Taiwan-produced frames, such as Sunday. Of course, comparing the costs alone, without analyzing the story behind the costs of the frames wasn't what I had intended to do. Afterwards, Sunday's Jim Cielencki contacted me to discuss the reasoning behind why some Sunday frames were retailing for prices higher than US-made frames. According to Jim, "We never went to Taiwan to get a better cost on our frames. We went there because the ideas that we wanted to do were not available in the USA and are still not available today."
And with that said, I sent Jim an assortment of questions to get his side of the story. Sunday frames are no joke, and the fact that some of their first production frames are still up and running six years later is a small testament to the strength of the frame and the engineering behind it. This might be a technical read, but it's very well worth it if you've ever been curious about your BMX frame and its origin.
ESPN.com: Can you run us through the process of getting a frame made in Taiwan?
Cielencki: We come up with our design requirements, model the frame design in 3D, create a fully detailed engineering drawing, and then we begin discussing everything with the factory. Depending on the level of complexity involved, it can take anywhere from 30-60 days before we see a prototype. The reason it can take so long is because the frames are made using custom drawn, seamless, chromoly tubing, and therefore the required tooling often needs to be made. The tube sets are literally custom made to our spec right down to the shape of the tubing and precise changes in the tubing's internal thickness at specific locations. Sunday frames really are being designed from scratch and because of this, our relationships with our factories are critical. We are fortunate to have our own agents working for us, and ones that are riders too. This is a convenience that we never take for granted.
What sets a Sunday frame apart from every other frame on the market?
You won't find another frame like our 3rd Wave in shops. As we just discussed, our tubing is being designed, butted, custom-shaped and drawn for Sunday's use only. This allows us to make dent-resistant shapes like the wave top and down tube. All of our aftermarket frames also make use of post-weld machined head tubes and bottom brackets for a precision fit with their respective bearings. Most of our models have specially made hollow dropouts that are more than double the strength of a solid 5mm plate dropout, which also include a built-in chain tensioner. (We've been using hollow dropouts since 2006 because they are so tough yet lightweight). The frames have Odyssey's 41-Thermal heat-treatment throughout, which allows the designs to be light, yet still strong enough to carry a real lifetime warranty against bending and breaking. In regards to weight, we have absolutely no reason to go backwards and make our frames heavier like some of the other brands are doing now. We know what the frames are capable of. There is no need for us to add weight because the frames have already been fully dissected from an engineering point-of-view and tested endlessly by riders in the real world, year after year. There is no guess work. When it comes to structural design, it's clear that a lot of brands can't make this claim and that fashion has become a major player in their decision making. We believe in form following function. We've said that "nothing rides like a Sunday" in the past because everyone notices the improvement in the frame's ride characteristics right away when switching over from another brand.

The frames have already been fully dissected from an engineering point-of-view and tested endlessly by riders in the real world, year after year.
--Jim Cielencki
How difficult was it to get Sunday's ideas pushed through in Taiwan?
The factory that we work with has similar goals and they are rightfully proud of their work. When one of our ideas seems worthwhile for improving a design, then they will usually be in favor of trying it. It's incredibly rare to discuss a new design and have it rejected because it can't be manufactured. With that said, making bikes is always a challenge and it's rare for things to stay on schedule. There are always delays and curveballs that you can't plan for ahead of time.
And also, why is Taiwan better suited to build Sunday's frame technology?
It's one of the few places in the world that we can have a frame made with the technical features that we need, and with both reasonable volume requirements and realistic pricing. It's a very good match for us right now. We wouldn't be able to make these frames in the US because the minimum requirements on drawing tubing (like Wave or custom tubing) would basically be impossible to meet, and as a result the price would shoot up as well. It's sad to say, but the interest just isn't there in most cases either. The factories that we would need to work with in the US are mostly geared toward aerospace and they tend to have the minimum requirements and fees to match. Taiwan has openly embraced the bicycle in all areas of manufacturing. US-made brands know this as well and some have imported special tubing from Taiwan to build their frames with here.
What are your thoughts about the current price of Sunday frames in relation to US-made frames?
I strongly believe that our price is completely reasonable for what you're getting. It's actually pretty cheap when you look at it all on paper. Straight out of the box you're getting a lightweight frame that is incredibly strong, with technical features designed to meet the real functional needs of riders, and with a lifetime warranty against bending and breaking to back it all up. The frames may cost a little more but you're also getting a lot more in return. I know that there are riders still comfortably using the first frames that we ever made. This means that the last frame that they bought is now six years old. I should also point out that while the 3rd Wave and Funday 2 are $399, we have the Conductor and Forecaster at $349, and we'll have another new frame in 2012 that should be under that price too.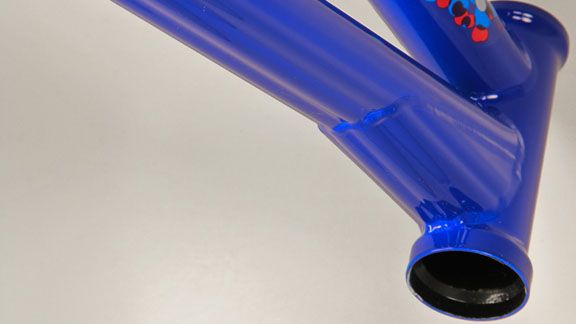 Would you ever consider manufacturing Sunday frames in the US if the technology to build them was available?
Yes, of course, if we could make the frames with the technical features that we need without facing the massive minimums, then we would be open to it for sure. Taiwan is obviously the central hub for the bicycle industry so it is advantageous to build a frame there for that reason. Nearly all of a bike's parts and components are made in Taiwan. Also, to be fair, we have just as many customers outside of America as we do living in the US, and oftentimes the mark-up on US frames is just too much of a hurdle for countries like Australia or Europe. We have to keep all of this in mind. So, in addition to being able to meet our technical demands with manufacturing, Taiwan also has an advantage when it comes to meeting the shipping demands and expectations of our distributors.
Are Sunday's unbreakable?
No steel frames are unbreakable, but we do our best to design the frame with a rider's needs in mind. This is not just the needs of our team riders, but for all of our customers as well. We believe that the frame should meet a rider's technical demands for weight and geometry, but that it should also be built to last a very long time. In six model years we have never had a warranty because of sudden head tube failure. We know from talking with other riders that this is simply not the case for many other brands. BMX frames shouldn't dismiss the technical features that they need for strength just to favor fashion and aesthetics. In order to make the best frames, pro riders and skilled engineers need to work closely together in order to meet the requirements that riders have.
Anything I'm missing that you wanna throw in, please go for it.
I'd just like to say that we have a lot of respect for the US factories and we also have a lot of friends working in them. We're as patriotic as anyone, but we feel strongly obligated to pursue our original design requirements to the best of our abilities. At our design office in Austin we have a lot of experience working with frame manufacturers. I worked on the US-made frames at Kink for multiple years, and Taj [Mihelich] used a lot of different US manufacturers for Terrible One. When it comes to making frames, we are confident that we've made the right choice for meeting the design and manufacturing goals that we have for Sunday.