Foundation's gearing up to drop a brand new video at the end of the month. "WTF" is the first Foundation video in a bit and the crew enlisted the skills of a few new amateurs to help get things trucking along. One such amateur is Arizona's Dakota Servold. Servold already had some notoriety in the skate world for a pretty hairy slam he took that was documented in The Skateboard Mag some time ago. Despite a debilitating injury that took Servold out of the game for several months, the kid is back in action and shows no sign of slowing down. Recently, Servold was blessed with his first cover photo, getting the frontal shot for Thrasher magazine. Not bad for a kid on the rise. We checked in with Servold just after the magazine he earned the cover of hit newsstands and skateshops and just before his debut video part drops. Dig in.
How did you get on Foundation?
By default. Ed Templeton thought I had a perm so they passed on me for Toy Machine. Mike Sinclair likes perms so he was down for me at Foundation and I'm backing Foundation.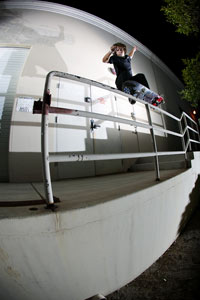 Who do you like to travel with on Foundation the most?
Ryan Spencer and Taylor Smith are rad dudes. I like everyone else too, though. Any trip is a good one. Life on the road is tight.
Who should someone never room with on a Foundation trip?
Nick Merlino; he's the worst dude out and even he knows it's a bad idea to room with him.
What's the sketchiest thing you have ever seen your teammate Marquis Preston do?
I've seen him steal a pair of shoes from a kid I know. They were Emerica's and Marquis can get Emerica's for free. I'm backing it though. Oh yeah, I watched him get choked out by Merlino. I thought he was gonna die but when he came back to consciousness he asked for a brew and they hugged one another.
Why is Sweetwater, Arizona the best place in the world?
Because I grew up there. It's where my heart is. Aaron "Jaws" Homoki is my best friend and we lived on the same street in Sweetwater. I just like the desert vibes.
You recently traveled outside of California and Arizona for the first time. What was it like seeing the entire country?
It was amazing. I hope I get to go to more places. The East Coast felt like Jurassic Park to me. It was sick.
Didn't Leo Romero try to light you on fire?
The first time I ever met Leo he threw firecrackers in my jacket. He's a d**k but he's actually cool.
Who's part is gonna be the stand out in the "WTF" video
Taylor Smith!
The secret to getting the cover of Thrasher magazine is to shoot with a photographer on his birthday and then it comes out on your birthday, Right?
It just happened. I still don't believe it. Thanks Joe Hammeke and Mike Burnett!