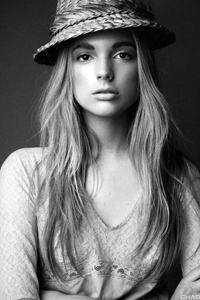 Our new series entitled "Strange places that BMX appears on the Internet" continues to unfold.
In an interview with Women's Wear Daily today, 20-year-old Australian-born fashion model Chrystal Copland discussed her childhood in Perth -- one that included riding a "BMX silver chrome everywhere" and not knowing whether to be embarrassed about it or not.
Copland, who opened up the spring Louis Vuitton show last week and is now shooting for Vogue Russia in Paris, France with famed fashion photographer Patrick Demarchelier, also came clean on wearing baggy Eminem t-shirts, stating, "I was really obsessed with Eminem when I was like 11 and 12 so my walls were covered with his posters. I was kind of a weirdo."
With representation that includes the Marilyn Agency in Paris, and Fusion in New York City, Copland has appeared in numerous fashion shows and on the pages of various international fashion magazines, not riding a silver chrome BMX or wearing Eminem t-shirts.
But amid a recent resurgence of chrome frames in BMX, this could be the ideal time for any number of companies to contact Copland, perhaps flow her a new chrome BMX bike, and convince her to not be embarrassed about riding a BMX bike. Personally, I think that the 2012 chrome Condor complete from Hoffman Bikes would look and ride great in any number of Louis Vuitton shows the world over.
As for the Eminem t-shirts, we can choose to leave those safely back in 2002.