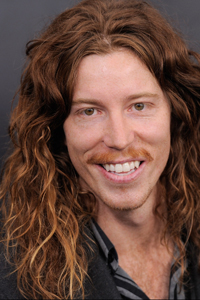 SAN DIEGO -- Want to own a skateboard like the one Shaun White used to win his latest X Games gold medal?
The action sports superstar is expanding his empire by launching the Shaun White Supply Co., which will sell skateboards, BMX bikes, helmets and pads, ramps and grind rails in sporting goods stores across the country and online.
The 25-year-old White said his product line is a logical step in a two-sport career in which he's dominated some of the sickest halfpipes in the world, from Los Angeles to Turin to Vancouver.
"The nice thing is, since I've gotten older, I have the mindset to take on things like this. When I won at Torino, I was 19. I mean, if the awards were at a bar, they wouldn't have let me in," White said, referring to winning the first of his two Olympic gold medals in snowboarding. "You can finally do all the projects that you've wanted to do, not that you have to do."
White promises that his products will be better than what he used while growing up in Carlsbad in northern San Diego County.
"You need to be able to like, get a good piece of product that you're not going to be made fun of at the skate park if you're some kid at the very beginning, and mom went out and bought your first skateboard. My mom used to go the swap meet and buy all my boards. They were awful; no graphics and some guy had just made them and was selling them.
"This is going to change that, which I'm pretty excited about, man," said White, who now spends most of his time in Hollywood when he's not out competing. "It's heavy to have your name on something like this."
White will officially launch his product line next Thursday in Las Vegas in conjunction with the final stop of the Dew Tour. He's got a charity tie-in with the Boys & Girls Club, which he belonged to while growing up, so he'll distribute equipment to about 150 kids at a local club, then take 20 of them back to the Dew Tour setup to try it out.
The skateboarding products are designed by White and his older brother, Jesse, who helped design some of White's snowboarding equipment sold by Burton.
White is digging into his past with the BMX bikes.
"I'm going after Lance (Armstrong)," White joked, before adding, "Not in the slightest.
"The BMX was really exciting, because I used to be way into BMX," he said. "That's what really got me going. When I was younger, I used to line up the kids in the neighborhood and jump over them on my makeshift ramps."
Sounds like a redheaded, adolescent Evel Knievel.
"You take the bathroom towel, and you'd tie it on as the cape. Oh yeah, I was going for it," White said. "I got really into BMXing, then my local YMCA opened up a skate park and that changed everything."
White joined with action sports heavyweight D6 Sports to launch his line.
"From there we worked to make all these things happen," he said. "It's starting something and then steering it, instead of getting on an existing company and altering that, where it's got its logo and is set in its ways. That's why I'm so excited about this. It's my brother and I calling the shots. The Shaun White Supply Co. thing has just been amazing. I'm going from scratch. We're making all this really cool stuff."
Although the big focus is aimed at first-timers, there are also skateboards for more experienced riders.
"Obviously, we make a range of products," White said. "It's like, I skate the boards. I just won X Games. You know what I mean? Tested and approved!"