Mikey Burton is a serious talent coming out of the Northwest. Having ridden for Manik skateboards for some time, Burton was recently given the nod to join the growing squad at Stacks skateboards that includes Sebo Walker, Dani Lebron and Reese Forbes. We checked in with Burton to hear about his nomadic existence and his motivation to constantly skate and get tricks on film.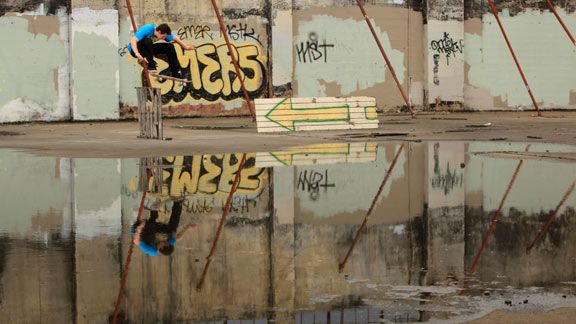 In the last couple years you've been moving around quite a bit. You've lived in Portland, Arizona, Seattle and Los Angeles. Where are you actually from?
I originally grew up in Phoenix, Arizona. My first sponsor was Cowtown skate shop. We had our little crew which included Ricky Geiger, Brian Lantz, Pete and Nick Trapasso, Josh Stinson, Branen Fitzgerald, and a few other homies. I left Arizona in the summer of 2001and headed up north to live with my mom in the small town of Sandy, Oregon, about 45 minutes outside of Portland. It was a cool change.
A little more then a year ago you packed your bags and moved to Los Angeles for a while, what was your reason for leaving the Northwest?
Oh man, that was pretty wild. I was working a full time job for over two years, a real 9-to-5 type job. And it was kinda one of those "you never know till you try it" type things. So when I got laid off from my job I took it as a sign. I packed up and headed down south to try it out, skate perfect spots and whatnot; you know the deal.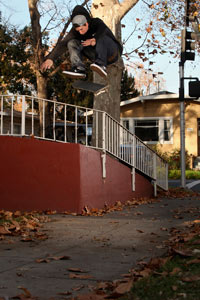 Was it the high cost of living down south that made you move back to Seattle or did you get sick of being stuck in traffic for hours just to get kicked out of a spot?
The cost of living was insane! Given, it was doable and I was eating good, that's for sure! It was a combo of things that pushed me to move back. I loved skating out there with Shane Auckland. I think the routine and vibe over there was just too much for me, though. Hectic traffic and people. I like to skate lots of spots, all day, not one or two spots with six hours of driving and being stuck in a car in between. Although, I do like to visit the city -- just pop in for a month and stay with homies to skate. That's more my style.
Recently, you left your long time board sponsor Manik skateboards and now you've found yourself riding for Stacks skateboards. How did that come about?
Yeah, well I didn't exactly leave. The company was having a rough time with getting the business end together. A bunch of skateboarders don't always run the most efficient businesses. It's all good though. Everyone still kicks it and we know we gave it our best for them.
After that I started getting some flow from Girl skateboards through Steve Klotz. I was definitely hyped on that, but wasn't really sure where it was going. It was when Michael Leon came up here with Sebo Walker to do an art show for GOODS that they showed interest in me. I went out skating with them while they were here and they were rad. Well, I already knew Sebo was rad from when I was in Portland. About a week after that I got a call from the Team Manager Justin Maruco. We talked a bit about the company's goals and focus, and I was down. They're all good dudes with a great program going on from the artistic influence to the incredible roster.
What keeps you so motivated? You've even been known to get a trick on your 30-minute lunch break from work. You definitely make me feel lazy when I get a phone call from you to skate at 9 a.m.
Skating keeps me motivated! I'll never quit filming and learning new tricks. It's the best feeling to always be accomplishing your goals. I try to film one or two video parts a year, just for fun. I don't really care where the footage is used, just as long as I film a part that people are hyped on and it's fun to watch. It's been like that for years, I always have to stack clips. I make deadlines for myself and everything. It's never ending because the minute you're done with one part you already have 20 tricks in mind for the next part.
The last few jobs you've had have been a little random to say the least- you've worked at an amusement park, as an elevator repairman and now you're a salesperson at Nordstrom's. Tell us about that.
I'm the type of person that feels like I can literally do anything I put my mind to. If I have the right tools to do the job, I can do it. Sell, build, write, cook, skate, anybody can do any of it. You can't be scared or think you'll fail because that never helps. I just say, "Yeah I'll do that!" and then I just try to do it to the best of my ability.
What are your plans for the rest of the year?
Well, it's almost fall, so I'm going try and take a few trips just to get out of the rain, but nothing is set in stone quite yet. But, my main focus is to work my job so I can continue to stack more clips. I work so I can skate. It would be tight to skate for work though!