Before the creation of Odyssey's Elementary stem, most if not all BMX stems on the market looked (and acted) the same. Using wedges instead of allen head bolts, the Elementary stem provided a unique alternative to the traditional look of the BMX stem. And now, Odyssey returns with another new alternative to the four-bolt on top, two-bolts in the back BMX stem -- the Lincoln stem.
WHAT IT IS:
The Odyssey Lincoln stem is a top-load design stem, using industrial strength chain-link plates to create a reinforced top cap hinge. The design utilizes two instead of four bolt holes, eliminating the need for extra bolt holes, which can weaken the stem body in this area. Clamping to the fork is done via an internal clamping system, eliminating the need for allen head bolts on the rear of the stem. As far as stem construction goes, the Lincoln stem is constructed of forged 6061 T-6 aluminum, with a 53mm reach, and rises of 25mm (upright) or 7mm (flipped). Overall weight of the stem is 9.8 oz., and the stem is available in black or raw. Curious about the name? Well, it has nothing to do with a certain President of the United States of America during the 1860s, or the infamous They Might Be Giants record of the same name. According to Odyssey's Nuno Oliveira, "It had to do with the links, and Lincoln kinda sounds like links."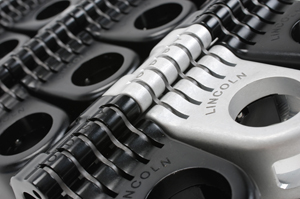 WHY IT RULES:
If you've been running a traditional stem for a long time, the Lincoln stem might take some time getting used to. But once you get past the aesthetic difference, you'll find that the Lincoln stem makes installation simple. Because there are only two bolts to anchor the handlebars, the angled top cap makes installation a cinch, and since all of us out there are probably over-tightening our stem bolts in the hope that our bars don't slip, the Lincoln stem eliminates a lot of the guessing of how tight is too tight. But it doesn't end there. Since clamping down onto the fork is done via an internal clamp, the rear of the stem is cleaner and more knee-friendly. And since it's an Odyssey product, you know it's not going to slip and that Aaron Ross has probably tailwhipped down 15 stairs while riding the Lincoln stem with no problem at all. So yeah, it rules.
WHERE TO FIND IT:
The Lincoln stem is not available until November of this year, and once it is available, you can find the stem at better Odyssey BMX dealers throughout the world. For a list of updated distributors, check out the contact info page on the Odyssey BMX website.