While most young snowboarders dream of a perfectly-groomed park, or landing their first double or triple cork, many *cough* older snowboarders have this other, reoccurring dream of 40- 50-degree pitches of never ending powder fields lined with wind lips and rollers. Luckily the mad scientists at Lib Tech apparently share that passion. For die-hard powder seekers the Chewgash is love at first sight.
WHAT IT IS:
It's a snowboard.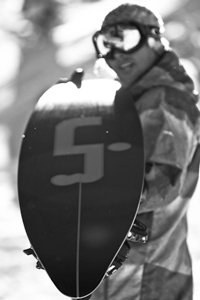 A better description is what it isn't: It wasn't made for buttering, jibbing, snapping off the lip, or carving groomers. It was built for over-30, slightly-overweight guys who dream about soul arching and laying huge pow roosts -- people who rejoice at the thought of never having to ride hardpack again.
The design originated as a concept in the Mervin experimental division with Steve Cobb in 2005. Dubbed the "Canoe," it was intended to be a noboard. Although it may seem a stretch, looking at the design, the Banana Hammock was derived from this template, and it also served as an early inspiration for the Skate Banana.
While those designs flourished, the Canoe vanished into the shadows.
WHY IT RULES:
A few years later Dave Mounts, Mervin's shipping manager, tried a few runs on the board with bindings. Binding's unleashed the board's true potential as pow slashing machine. The new incarnation was dubbed the "Chewgash."
Last winter with a two-foot dump of light, dry powder and bluebird skies the board was put through its paces in the Utah backcountry. The Chewgach is deceptive because it looks more suited to ride Cali point breaks than steep mountains, yet it handles steeps like a Ginsu. Unlike conventional board shapes, riders are able to manage speed by pushing with the rear foot. The narrow tail creates a fun sensation of a butter knife spreading jam rather than a hard carve in a set turn -- it's got more of a surf feel.
The board also handles better the faster you go, so those afraid of rapid decent need not apply. Combining the velocity and rear-foot sensitivity in open fields, Mervin Marketing Manager Zach Leach threw plumes that would make Craig Kelly jealous.
WHERE TO FIND IT:
Seeing unique shapes like this raises the question: Could snowboard design eventually go to custom shapes and design like surfing? Probably not on a large scale, due to production costs and minimal demand, but there is definitely a place for fun, unconventional shapes in snowboarding, if only to keep people thinking outside the box.
Sadly, unless you are TRice or one of the lucky few people at Mervin you'd have better luck linking up with Mark Carter for a Timberlake concert than getting your hands on one of these boards. Maybe you should try making one yourself?