Terry Kidwell wrote snowboarding's style bible. His tricks on the rudimentary Tahoe "vert" of the early 80s and airs on natural terrain (Wine Rock!) made him peerless for more than half the decade. Even when other riders "caught up" to his skatey handplants, McTwists, and confident tweaks, nobody rode with Kidwell's style. Nobody. "I couldn't have asked for a better subject to let me practice the technique of photography while truly being the essence of the art that I was trying to capture," says photo pioneer Bud Fawcett.
That's right: "Art."
We've noticed a huge surge in Kidwell coverage lately so we wanted to find out where he went, where he's at and where he's going. The four-time World Halfpipe Champ popped up as part of the Aries time capsule project during the 2010 Olympics, then he was on Signal's Every Third Thursday, building a replica of his original Sims signature board, the world's first pro model. (Stepchild made a TK tribute model in '08, too.) We gobbled up his epic Powder & Rails episodes and wondered, Are we sniffing a comeback? Hell, he even hit Snowboarder Mag's Superpark this year and has been ripping the Alps.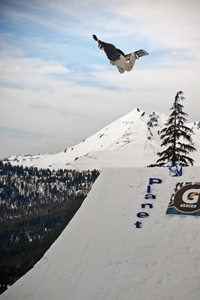 So: Turns out "TK" still gets plenty rad at 48, clearly loves snowboarding more than ever, and is (finally!) fully embracing the "father of freestyle" mantle foisted on him.
Hindsight is 20/20, but, before Kidwell, "shred style" was often flappy and unsure of itself -- outright wack at worst. It needed a vanguard talent like him, someone with the imagination and athleticism to lead the charge. "Terry didn't just show the world what was possible on a snowboard; he showed everyone how it should be done," says Mike Ranquet, certified legend. "To the small, core group that went on to shape the sport and the industry, Terry's influence could never be overstated. He was the first guy that made snowboarding appealing to legions of skateboarders -- me being one. He planted the seeds of what is now freestyle snowboarding. Snowboarding as a whole owes a lot to Terry."
ESPN: It seems like you have popping up in the media and on the hill a lot more lately. Why is that?
Terry Kidwell: I never stopped riding, just with a 9-to-5 job I was out of the spotlight. With snowboarding having a [deeper] history now, more people want to know about the past. The media have been calling me to do interviews, so a lot of [coverage] has come out the last few years. I've also been filming some of my travels this year with BK Sports Productions, which is really just Bob Klein having fun with a camera. It is fun for both of us, and a new way for me to put myself in the public eye again.

To the small, core group that went on to shape the sport and the industry, Terry's influence could never be overstated. He planted the seeds of what is now freestyle snowboarding. Snowboarding as a whole owes a lot to Terry. -- Mike Ranquet
My latest project is "Inside The Rider's Mind" where I will be interviewing riders that, in my mind, have made a big impact on me and on the sport -- from the 80s to the present rippers. Also upcoming riders that I see as having a big impact in the future...
I went to a few Snowboarder Mag events, Superpark and America's Next Top Pro Model. It was awesome, just to see the newest progression right before my eyes. It's also really cool to meet all of the new young pros. Snowboarding is in good hands from what I can tell...
Have you been riding nonstop since you started (in '77), or did you take a big break?
Well, I did take a break one year when I went back to a 9-to-5 job, but I guess I dropped off the radar after going back to work and just rode on the weekends with close friends. For me snowboarding has always been about having fun, with or without sponsors. That's how it started for me and that stoke is still there today.
How does your body hold up on the new mega-sized trannies? Superpark's a far cry from the Tahoe City dump pipe.
I'm doing great. I just can't ride at the higher level of my past. But I'm having more fun riding now than I ever have. It's all about selective riding at my age. I can't just totally go for it anymore, so I need to look at things carefully if it's hard-pack. Powder is what it was always about and still is, but it's pretty fun to hit things like big hip jumps at Superpark [see photo]!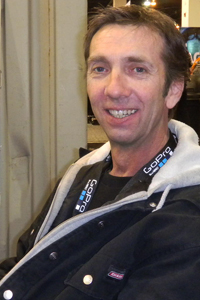 The skate and surf industries seem to do a better job of incorporating legends than snowboarding does. Thoughts?
It's a tough one. I don't want to sound bitter because I am not. I think snowboarding is so young and it's a different industry than surfing and skateboarding, so it's tough to compare. Would I like it if the media and companies did a better job of keeping older riders involved? Sure, but that can't just be put on the media and [manufacturers]. It's up to each rider to stay positive and enjoy snowboarding enough to motivate them to keep riding and filming or whatever. Look at Bryan Iguchi. He's still at it and has so much respect with the younger kids, it's all because he kept riding and stayed stoked on everything.
Industry pundits often throw around pretty big claims like, "TK should get $10 from every snowboard sold"... Ever feel like you missed the gravy train by peaking too early?
I never started snowboarding to make money. It was always about having fun, riding with friends...and the same stands today. Making enough money to pay the bills just kind of happened. I never expected that. I guess you could say I peaked too early to make better money. But you know what? I wouldn't change a thing because snowboarding's my life and the memories I have I will cherish forever; my current goals in snowboarding are keeping the stoke going. Ride forever!
That said, I would love to figure out a way to also get paid enough to be able to travel all winter to ride and give up painting houses. That's a tough life. If you ever have the chance to get paid to snowboard, you really ought to appreciate every minute because, when it's over, you have to work your ass off to eat and pay bills. Again, that's one reason I am doing [the] filming and the new project will potentially give me a way to snowboard more and paint houses less!
Amen, brother.