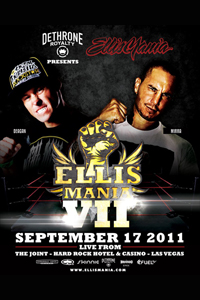 BMX legend/rally driver Dave Mirra is set to fight professional freestyle motocross rider and X Games 17 RallyCross Gold Medalist Brian Deegan in round eight of Ellismania on September 17, 2011 at the Hard Rock Hotel in Las Vegas, Nev.
Presented by radio star, skateboarder and pro fighter Jason Ellis, Ellismania combines star-studded fights and goofball antics in ringed off fights. Past fights at Ellismania have included Benji Madden of the band Good Charlotte squaring off against former host of MTV's 'Headbanger's Ball' Riki Rachtman, as well as Ellis himself taking on the likes of Canadian emo bands, along with robot boxing teams and more.
Ellismania 8, dubbed 'Mindfist,' additionally features matches that include Wee Man of 'Jackass' fame taking on Wee Matt, Ellis taking on Kit Cope, plus live musical guests.
Deegan, creator of the Metal Mulisha and notorious in BMX circles for allegedly trying to fight former S&M Bikes pro Troy McMurray at one of the early X Games, recently put together an MMA team sponsored by Metal Mulisha. A fan of MMA, Deegan also has a ring in his garage.
Meanwhile, Mirra remained judicial, disspelling rumors that he wanted to knock out Deegan. "I have a lot of respect for Brian. I know we will both train hard. It's going to be a good match," said Mirra via Facebook.
A longtime resident of the Greenville, NC area, Mirra, 37, rose to fame in the late '80s as an expert vert and flatland rider, turning pro for GT Bicycles in 1991. In 1995, Mirra won a silver medal for vert in the inaugural X Games, and his current medal count stands at 24. In 2006, Mirra founded MirraCo Bicycles. Currently, Mirra continues to ride at a professional level and also races rally cars on a professional level. His sponsors include Bell Helmets, MirraCo Bike Company, Pahr, DC Shoes, Monster Energy, Maxxis Tires, Oxy and Subaru.
Mirra finished fourth in RallyCross at X Games 17.
xgames.com