X Games 17 wrapped up on Sunday night, and after a day of relative quiet, punctuated by a day of Los Angeles to New York travel, I'm back in the office, wondering where the last ten days of my life disappeared to. I'm also in awe of the riding we got to witness last week in LA, and because of that, I thought it only appropriate to pick some personal highlights of my past week. Then I realized that my personal highlights of X Games 17 would fill an entire book, and decided to narrow down my focus, picking two riders that one-upped themselves and amazed everyone in attendance. For myself, and please remember that this is my own opinion and not at all a slight against any of the amazing riders in X Games 17, my two personal favorites of X17 were Dennis Enarson and Steve McCann.
Both riders pulled double duty at X Games 17, a feat in itself. Dennis rode Park and Street; McCann rode Big Air and Vert. Dennis walked away with two Silver Medals (which he also did at X Games 16); Steve walked away with his first Gold (Big Air) and a Silver medal in Vert. Let's take a look at Dennis first.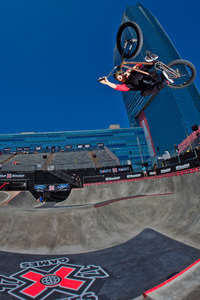 Going into Park qualifying, Dennis showed up at the course, having hardly ridden or adjusted to it, smiled throughout the little practice he did get, and finished qualifying in first place. Unfazed, Dennis left qualifying and moved over to street practice, where he rode for another few hours on Thursday. As Saturday morning approached, Dennis again showed up to ride Park practice, and completely annihilated the course during the contest. With an eye for bowls, creative lines and smooth landings, Dennis rode the course like he had been riding that course for years. He sat in first place throughout the contest, and in the end, lost by fractions of a point in a first place tie-breaker to Daniel Dhers. He finished with a Silver Medal, and not surprisingly, had a lot of people convinced that he should have won.
The next day, on BMX Street, Dennis casually finished in the Silver Medal position again. Of course, he was trying to ride good, but his style of riding is so effortless that he looks like he's not even trying. His runs included tailwhips both ways, nollie barspins off the roof, 360s over the long handrail and again, huge smiles from Dennis like he was having fun riding with his friends instead of riding at one of the biggest contests of the year. And that's what really does it for me -- it's so apparent that Dennis Enarson is having fun riding his bike that it brings an element of anti-competition along with it.
No game face, no one-upping, just one of the world's best BMX riders having fun.
And then there is Steve McCann. A seasoned competitor in both Big Air and Vert, Steve has long ridden against fierce competition from Bestwick, Kagy, Robinson and more. This past year, Steve has remained healthy, while his main competition have all suffered various injuries throughout the year. And what did Steve do with the past year? He practiced, learned new tricks, and progressed. In Big Air, Steve was one of the few riders to cleanly pull a full (and very burly) run that consisted of a double frontflip to double tailwhip in the 15 and a half foot range on the quarterpipe. He went from fourth place to Gold with that one run, and walked away with his first X Games Gold Medal. As soon as he landed that run, I knew he had won the contest, and I was psyched to see Steve always pushing himself to learn new tricks on the MegaRamp.
The next night, at BMX Vert, I naturally assumed the battle would be for second place, behind Jamie Bestwick. Then Steve McCann dropped in, and fired out perfect triple tailwhips and the second no-handed 900 in X Games history (Hoffman pulled it first in 2002). Sitting just two points behind Jamie Bestwick, McCann amazed everyone in the building, and actually gave Jamie Bestwick a run for his money in BMX Vert (something not too many people are capable of.) He finished with the Silver Medal in Vert. If Steve can remain progressing at the level he's at right now, there is no doubt in my mind that he could be taking home some BMX Vert Gold at future X Games. And if he continues to push the envelope on tricks, I think everyone in the pro vert class will have to seriously step it up in the next year.
And that can only mean one thing -- even crazier vert contests. Here's to X Games 17, Dennis Enarson and Steve McCann for putting on an amazing show all week long in Los Angeles.
xgames.com