Vans and Anthony Van Engelen are two classics that go well together. Since getting on Vans since 2005, Van Engelen has consistently produced pro-model shoes that adhere to the classic Vans aesthetic. Van Englen's AVE Sk8-Lo model is as classic as they come.
WHAT IT IS:
Van Engelen took the borrowed the basic look and profile of Vans' Sk8-Hi, a shoe Vans has offered for decades. Cutting the shoe down to a low-top, Van Engelen removed the stripe and gave it a new look that still seems familiar and classic in style.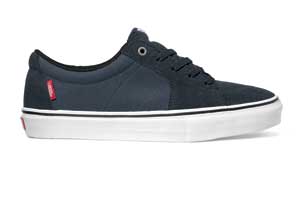 WHY IT RULES:
You'd be hard pressed to beat the Vans waffle sole when it comes to grip and board feel. The vulcanized sole is a lightweight, flexible and thin one. However, the bulked up OrthoLight Insole provides more cushion than some of the classic Vans models. The result is a shoe with superior board feel that doesn't punish your feet for a lack of cushioning.
Van Engelen, a man who generally lets his skating do the talking had this to say about the shoe's design: "I mean look at the thing, what's not to like? It's a classic and skates like it. I try to just make timeless looking shoes."
WHERE TO FIND IT:
You can find the AVE Sk8-Lo shoes at your local skateshop or Vans retailer. You can also purchase them online at reputable online skate retailers including Kinetic Skateboarding and Skatepark of Tampa.