Tim Durtschi will make his fifth appearance in a Poor Boyz Productions film this fall in the release of "The Grand Bizarre." That's not all Durtschi has been up to: Last winter, he took third place at Red Bull Linecatcher and increased his involvement in Saga Outerwear's design and marketing. But you won't see this Salt Lake City winter resident competing in slopestyle. Not even for the Olympics.
I read on your website that you don't think you'll get your slopestyle game back. What's holding you back?
I've not competed in a slopestyle event since 2008 and a lot has changed since then. The set of tricks you need to win now blows my mind. I can't imagine linking up a line of doubles. I am excited for the youth in skiing because I can remember how much drive I had to make it to Winter X and learn what I needed to compete. Now that kids will have the chance to ride for their country in the Olympics, it is going to turn things up a notch.
What is your role at Saga right now?
I came on as an athlete in 2006 and have been with Saga since. My friends started the company and I was really excited to be a part of a start-up brand during the beginning of my ski career. As the company grew I got more involved, started helping with design, and then bought equity in the company. Today I help with everything. I hang out at the office and everyone who works there is my friend, so it doesn't feel like work, but we get stuff done.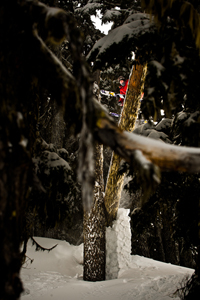 Without chasing a slot for 2014 slopestyle what are your plans as an athlete?
I want to keep creating video segments and to be involved with backcountry freestyle contests. I've enjoyed competing at the Red Bull Cold Rush and Linecatcher. These events have no chance to be in the Olympics and that is fine with me, but that is where my focus is right now. They bring something positive to skiing. When a group of us gets together for a competition there is not that vibe going around that used to get me so nervous at the Winter X Games.
Are you injury free now?
I had a minor knee surgery in May, so I have dedicated this summer to getting healthy and ready for next ski season. Skiing takes a toll on your body. My knee doctor compared it to football and I have to agree with him.
What was a highlight of filming for PBP's "The Grand Bizarre"?
Every year is completely different. I go into the season with some plans, but weather, injuries and everything else can change your plans in an instant. The highlight of my season was a last minute trip to Cordova, Alaska, where I got to see a different part of AK other than Haines. When it comes to filming, probably the most exciting shots to film are the helicopter follows. You have to get on the radio and set up the shot and then when you're skiing the line the helicopter is just floating next to you. It's a crazy feeling. The shots turn out so cool. They are my favorite to watch in the movies because I think they give the audience the best feel for what it is like to be skiing the line itself.
What do you think is the most bizarre thing in skiing right now?
Trick progression is bizarre. Not many people expected to see triple flips in a big air contest this year. When I competed, there was not even talk about triples, but within a couple of years it's looking like they will be a mainstay for contest athletes. I don't think trick progression is a bad thing. I just like to learn tricks at my own pace. Contests, especially ones with huge prize purses, are a motivator for fast trick progression. I just hope things don't get to out of hand and style keeps its place. As for me, I will be going at my own pace.