If you Google the name "Jessica Reedy," you'll find a gospel singer who once auditioned for American Idol. But, there's another Jessica Reedy who fans of freeskiing will soon start hearing more about: Halfpipe skier Jessica Cumming recently married former Winter X skier Jon Reedy, and starting this winter, she'll be competing under her new name. We talked to newlywed Jess Reedy about breaking her back this winter and still making the U.S. Freeskiing halfpipe team.
You were injured at Winter X Games this year. What happened?
I injured my knee at Winter X in 2010, so I was coming back from a knee surgery this winter. I did the Grand Prix and the first Dew Tour and was third at both of those. Then at Winter X, the night before qualifiers in practice, I smacked my head doing a 720 and got a minor concussion. I decided to compete the next day anyway but then on the first run of qualifiers, I crashed and ended up breaking my T12 vertebra in my back. I didn't compete for the rest of the season.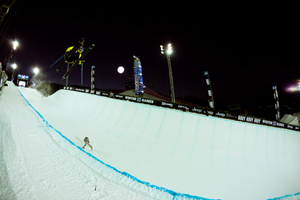 Despite all that, you still qualified for the U.S. Freeskiing halfpipe team.
Once pipe skiing was announced into the Olympics, I was waiting to hear if I'd made the team or not. They said that there was a spot for me if I wanted to be a part of it. It was a tough decision -- I've had so many injuries in a row and a lot of people in my family were worried. But I've worked so hard and been involved for so many years that I couldn't get this close and have a spot on the U.S. team and say no.
How are you feeling now?
I took a few months off and everything is healed up. Now I'm refocusing on skiing. I'll be in the gym as much as possible this summer. I'm going to Utah to do some water ramping and train at the U.S. team facility. I want to put together a new pipe run and I want to think long term about what kind of tricks we'll see at the Olympics and start working on those.
And this winter, you'll be competing under a new name?
I don't know how that will work switching my name over. But we'll see. Lindsay Vonn got married and switched her name over the year before the Olympics, right? Hopefully this season, I can get some good results and re-make a name for myself.