There is no lack of excitement surrounding the upcoming Quiksilver Pro New York this September. Most of the surf world is wondering how New York can ever produce enough of a bump for the World Tour heavies to compete on. But there's a different question going around Long Beach this summer. And it's being asked from NYC to Montauk, on the other side of the Verrazano Bridge, and all the way down to Florida. Just who is going to get one of the coveted wildcard slots -- the golden ticket to surfing's chocolate factory?
This weekend, 16 New York surfers will compete in the Quik Empire State Surfing Championships. But be very clear. This is not the trails. This is the trials for the trials, and it is only open to New York surfers.
The winner of the Empire State Surfing Championships will not automatically get entry into the Quik Pro New York. The New Yorker that wins this weekend will get a crack at the Quik Pro Trials presented by Unsound Surf on September 1-3. One trials slot has already been awarded to Keanu Asing, of Hawaii. In May, wrapped in a 4-mil, boots and gloves, Asing won the Unsound Pro Junior in Long Beach.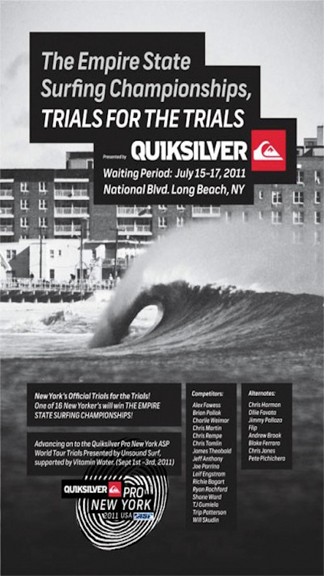 The Empire State Surfing Championships Trials for the Trials will go down Friday, Saturday, or Sunday, depending on the surf. Alex Fawess is an obvious favorite. His father won a US Surfing Championship title back in the 70s and Alex finished second place in the Open division at the ESA Championships in 2009. He's made a few rounds at the Unsound Pro in the past.
"Everybody is pretty excited about the the actual event coming in September. As far as the Trial for the Trials, it's pretty cool that they set this up for New York surfers. I don't necessarily think the list of surfers truly encompasses all the best surfers here. There were a lot of talented guys left out," says Alex Fawess, of West Gilgo, "There's been a good amount of talk, but Central Long Island, where I live, is less competitive than Long Beach."
You've got a sick mixed back of exciting randoms throwing their hat in the ring like Montauk commercial fisherman Charlie Weimar, Oakley rep Chris Tomlin, global big wave charger, Will Skudin, and Chris Martin, not to be confused with Coldplay's Chris Martin, who also surfs out East (although not as well.)
Taking a look at the surf forecast this weekend, it seems we have only minor swell on tap for Long Island, typical knee to thigh-high summer wind stuff. That tends to favor the lighter rippers. Leif Engstrom has some decent results in APS Puerto Rico events and is known as an East Coast "Mod Col" type. TJ Gumiella surfs for Unsound and has small wave air skills. Neither of them weighs 150 pounds, so look to these them as favorites.
Looking down the road, who can we expect to see in the Unsound Trials in September? Quiksilver, Unsound Surf Shop, and Vitamin Water all get to choose a few ringers. Being as Long Beach's Balaram Stack surfs for Unsound and Quik, and is literally the poster child for this event, he will definitely get a slot in the Trials and could get one of two coveted wildcards for the Pro.
We could potentially see some New Jersey surfers as well. Sam Hammer, who surfed in the X Games, and Randy Townsend are both past winners of the Unsound Pro, the forerunner of the Quik Pro that has run the last 12 Septembers here. The only other East Coaster on the Quik Global Pro Team is Fisher Heverly, of North Carolina. It may come down to politics. Quik does not have a single Young Gun Team member from Florida. Jeremy Johnston bagged Unsound titles in 2008 and 2009. Billabong's Ian Gentil, of Maui, is sponsored by Vitamin Water. Kolohe Andino won the 2010 Nike Pro Junior presented by Unsound in Long Beach. It's going to get interesting.