Toy Machine's Collin Provost may or may not be pro. He's not really sure. We're pretty sure he is since he skated in the NYC Maloof Money Cup pro contest but he hasn't received a board with his name on it yet or any other real indication. So this is either Colin's first pro interview or his last am interview, no one knows for certain.
What's going on Collin?
Marquis [Preston] just got his bike stolen in broad daylight in Long Beach; cold as ice. It was a nice one that he spent a lot of money on. It was the third one of his this year that got stolen. He had a chain on it but they snipped it.
How has life changed since going pro?
I don't even know if I am pro yet but I'm down. I get to skate contests, that's all that's different. I just get to skate the pro contests and try to get money.
They haven't told you that you were turning pro yet? Or given you a board?
No. Nothing has gone down like that yet.
You haven't skated a Colin Provost pro model yet?
Hell no! It would be nice though, right? I'd be psyched. I don't know if it's supposed to be a surprise or what's going on. I have no idea. I'm just going to keep on skating. I don't need to worry about that stuff.
Do they need you to film yet another amazing video part?
I'm working on two right now for Toy Machine and Emerica but I don't think that has anything to do with it. Next year Emerica is going to make a video with me, [Brandon] Westgate and Leo [Romero] with parts and everybody else is going to have footage. And the Toy Machine one is going to come out before the Emerica one.
You just had two banger parts. Are you out of tricks?
Ha! Maybe. I'll just do the same ones and just try get gnarlier and kill myself a little bit more. Honestly, I don't even think about it. I just go and skate. The Emerica videos I have to worry about a lot more. Those take more effort and time. Me and [filmer Jon] Miner work on the part together. With the Toy ones, they're stoked with whatever you film with them. They're just down. With Emerica you gotta kill it. It has to be gnarly as hell for it to be used.
What are you going to do with your first pro check?
Probably put it towards rent. Get groceries. I'm trying to buy a Harley but that's not really working out. I'm just lazy. I got to get a motorcycle license and I got to go out and do it and I'm never home long enough to do it. It's a lot of work I feel like but it's going to happen one day. I'm just trying to get it before the next Wild Ride; that's my main goal.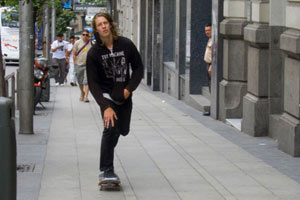 You're saying you didn't know you were turning pro but you went to the Maloof pro contest. Someone must have told you something.
We were on that Toy trip in Oregon and they said I had to go out to Maloof afterwards and I thought I was skating the am contest. I was asking if I could come up on any money at the am contest and then they said I could skate the big boy one. It wasn't really talked about but I was down. I won seven grand so that's my budget for my Harley.
I'm not going to tell Emerica what to do but I think getting you a Harley would be a nice gift for you for turning pro, right?
WHOOO! You should probably tell them what to do! Hit them up and let them know. That would be tight. Turn pro and then burn out of the parking lot.
Maloof was you first pro contest and you made it to the finals. Were you nervous at all going against the big boys?
No, I wasn't even expecting to do good or anything. I was just there to skate it. Just trying to do anything and it ended up working out alright. I was psyched.
A lot of guys just got turned pro. Who is your favorite new pro?
Figgy [Justin Figueroa]. I grew up with him and he's always been gnarly as hell and always skated good. When he was on Birdhouse, before he was on Baker we always thought it would be cool for him to have a Baker board. When it finally happened it was pretty cool to see. He's always like the hometown hero who was always better than all of us.
Is it true of that hometown crew that you have the most attractive mom?
I don't even know why everyone says that but whatever, cool. My dad is psyched; I'll leave it at that.
What's it like having Heath Kirtchart as your team manager on Emerica now?
He's the best. He nails it. He's so on point.
Is it intimidating to know your team manager is probably better than most of the team?
He is better than everyone but I'm down for that. It's just awesome for him to be there. Before he would show up on a trip, try one trick he knew he was going to try, he'd either get it or not get it and then fly out. If he didn't get it, he'd fly out right away. If he got it, he'd be psyched and party for a couple days then fly out. Now he's just on the whole trip and nails it.
He has saved almost every penny he has ever made. Is he equally cheap as a team manager? Is it hard getting your per diem?
No, he's actually all about it. If anybody gets a gnarly trick he's like, "Steak dinner tonight! Let's go to the strip club!" He's down to make it a good time. He's the best. It is so tight having him as TM.