Snowboarding, skateboarding, and surfing: The holy trinity of sliding sideways. Three useless quests for, at best, expanded time. In a tribute to these life defining acts of challenging gravity that influence every choice I make (and are the reason I consider my truck home as much as anywhere), once or twice a year I set out to session all three in the same day. It is a mission that only makes sense if you believe in it.
Spring is the most conducive time of year in the Northwest to succeed in the trifecta endeavor. The mountains still hold many freestyle and touring possibilities, the skateparks are dry, ocean currents start to fill in summer sandbars, and the days are long. For the sake of less fingers pointing my direction, I will not disclose the exact location(s) of my Triple S, but I will tell you that it took place somewhat near Canada, where snowboards are made. With Crystal Mountain, Washington still running their lifts, you could easily ride from opening until noon, go roll the Grindline designed Sumner skatepark at the end of Highway 410, and be suited up in Westport well before sunset.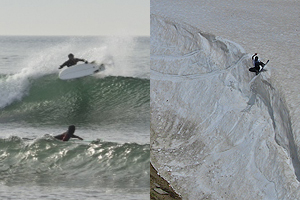 Vancouver Island, I imagine, would be an ideal geographic location for a Triple S. Oregon as well:shred Mt. Hood in the morning, skate somewhere in or around the Portland area in the afternoon, then drive to the coast for a solid late day float. I have heard of people snowboarding 4,205 meter Mauna Kea on the Big Island of Hawaii, skating down the road and into the Pacific.
I know the Trifecta elements exist and are obtainable in Chile, Alaska, New Zealand and Japan. I am sure Terje has completed the Triple S in Norway. If you are T Rice, you could probably shred Jackson Hole in the morning, fly a private 747 to Hawaii, skating a ramp in the plane's belly, then paraglide down above a prime set wave and acid-drop into the ocean. If you are not T Rice, the mountains and the coast in somewhat close proximity are the most important aspects of your route to align, as you can skateboard almost anywhere.
Because surfing originated first, followed by skateboarding, and then the two ultimately gave life to what we know as snowboarding, I chose to follow this lineage for my most recent Triple S. Having a good friend to accompany you is recommended for a Trifecta, as is coffee and a few celebratory drinks after each session. Northwest destroyer Matt Edgers joined me for the day. Along with surfing, skating, and snowboarding, we figured it a better offering to partake in as many S's as we could, including; snowskating, shoe skiing, sipping, swearing, smoking, spitting, swimming, sneezing (springtime is harsh on my allergies), and stone skipping, all the while failing to notice the sun scorching the white from our faces.
At the end of the day there are no Ultimate Boarder points awarded. Achievement of this Trifecta and any subsequent related activities will result in little more than dehydration, ravenous hunger, and a soreness so deep it completely numbs the body.You are conscious, yet it feels like you are floating outside yourself. I am not looking for much more that that.