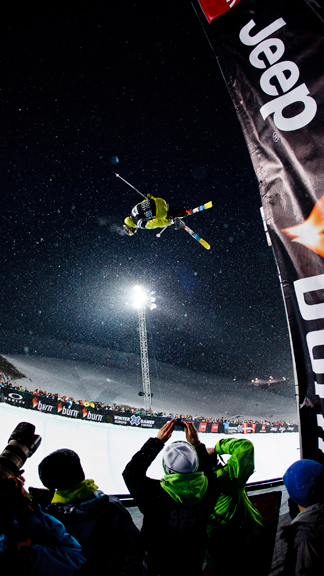 David Wise is one of the five men recently added to the first-ever U.S. Freeskiing Halfpipe team. The announcement came at the end of what was a breakout season for Wise, a Reno, Nev. native. In 2010, he qualified for Winter X but tore his ACL at the first Dew Tour stop and was benched for the season. This year, he came back strong and ended up fourth in the AFP superpipe rankings behind Kevin Rolland, Justin Dorey and Simon Dumont. To further cement his status as a pro you will be hearing more about, Wise recently launched a fancy new website. We spoke to him last week during a break from training at the Park City water ramps.
Nice new website.
Thanks. If I could be just a skier and ski everyday and work hard at that and have all that other stuff magically happen for me, that'd be great. But the reality is that's just not possible. The whole social media thing -- I didn't really like it that much. Some people are born for it, but not me. But I decided it was time with the announcement of the U.S. team and the Olympics to put time and effort into creating a web persona. I just got on Twitter this year. It's a good tool for keeping in touch with fans. I didn't know that I had any fans until this year.
The fans probably noticed you had a good season. How was it coming back from a knee injury from the year before?
It was tough to sit out last year. I had a lot of momentum coming off that summer before -- I created a new trick, the double cork 12, which nobody had done in the pipe yet. And then last year, I had to sit on the sightlines and watch Kevin Rolland win a lot of contests with that trick. That gave me a lot of fire to come back this year. Injuries are part of the sport we're in. I'm happy with how this season went. Obviously, everyone wants to win everything and I didn't do that. But coming off an ACL injury, it was good to even podium.
So you're at the water ramps in Park City right now?
Yeah, I've been jumping all week on the water ramps. Ever since I was 12, I've been coming out here. It's a pretty good tool for first learning tricks, but when you get to a certain point, it's not as effective. It's definitely different than jumping on snow. There's so much surface tension on the water. I've broken three skis just in the past two days. I tried putting an extra sheet of fiberglass on my skis so they stayed strong. But I broke those too.
What tricks are you working on now?
I'm working on rightside doubles. One of my big goals for next year is to do left and rightside double corks. I got that trick early season on snow but I didn't have many opportunities to throw it in a contest this year. It's kind of a dangerous trick, and you want the snow to be soft and forgiving. I did get an opportunity to throw it at the Snowbasin Dew Tour. That was a milestone for me, landing back-to-back double corks.
How has it been on the U.S. Freeskiing team so far? Do you hang out with Lindsay Vonn at the U.S. Ski Team's Center of Excellence?
The whole experience has been pretty cool. USSA is a pretty big organization and they've got some good people who seem to understand our sport. I didn't see Bode Miller or Lindsay Vonn -- I think they have their own things going on -- but we did play volleyball with a bunch of cross-country skiers. There's no racer versus freestyle thing going on. Everyone's there because they want to be the best in the world. And they're all working hard.
What was it like growing up in Reno?
There are only a couple cool cities in the world where you can have a bit of a city life, but then there are mountains and skiing nearby. Salt Lake City and Denver are good ones. In Reno, I'm only 40 minutes from Lake Tahoe. Through my travels, I've learned to love Reno. I didn't really love it growing up, but it's great for me now.