The first time I shouldered the new T Rice backpack, I was on my way to the airport. Mountain testing came after landing. It was a worthy pack for both missions. Carting around a 17-inch laptop, camera, a spaghetti mess of cords, down coat, and some reading material for the plane? No problem. Need to bring a lot of gear for bell-to-bell days splitboarding in the backcountry? Equally easy. I stuffed extra layers, avy gear, water, snacks, climbing skins, goggles, a fist-sized repair kit, and even a helmet inside without popping a zipper. This is definitely the most spacious 24L pack I've ever used, and with Mike Parillo's artwork adorning it (in two colorways), it looks mighty fine, too.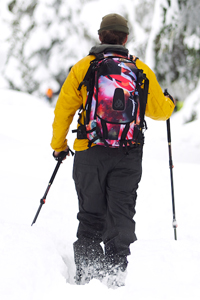 WHAT IT IS:
The Travis Rice backpack is designed with full input from, whom else, Travis Rice, to meet his overall riding, backcountry, filming and travel needs. According to Nadene Wisely, Quiksilver Director of Snow Merchandise and Design, "Travis relied on this pack during filming missions in Jackson, British Columbia, Alaska, Chile and Patagonia for the making of 'The Art of Flight.' It's designed to hold all the essential avalanche safety equipment and gear." Plus it's hydration-system compatible, and features a horizontal and vertical snowboard carry system for riding a snowmobile or hiking with your board.
WHY IT RULES:
Every pocket, strap, and sleeve in Rice's clamshell designed pack serves a purpose: three separate compartments separate avy gear and wet stuff (skins, snowy shovel blade, sweaty toque) from dry goods like extra layers, food stash, helmet cam and so on.
"All back and side country riders need packs to carry, at minimum, their avalanche safety gear," explains Wisely. "This pack is set up to organize shovels, probes, goggles and tools in a way that is easily accessible and makes the best use of the 24L of space."
But it's not just about function. Parillo's artwork makes this pack standout as well. "The pack has two colorways featuring Parillo's artwork: the colorful 'Another Love Story' and white based 'Ninja Lighter'," says Wisely. "Parillo's artwork and the pack's sleek styling make these packs also a good transition piece to day-to-day use off the mountain."
WHERE TO FIND IT:
Select Quiksilver stores, Evogear, Snowboard Connection, Jackson Treehouse, and BC Surf & Sport, starting on October 1.