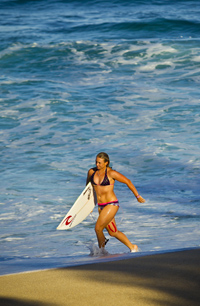 The quote of the week in the surfing world has got to go to ASP Womens tour vet, Jessi Miley-Dyer. In an article entitled "ASP Stars Hit the Books in Between Contests," pertaining to competitive surfers attaining college degrees while pursuing surfing careers, Miley-Dyer told the ASP: "I decided to study because I've seen the generation of girls before me quit surfing and be lost as to what is the next step. I can tie a boardbag on top of a rental car five different ways, cheat my way out of excess baggage, and take yogurt through the security checkpoints in airports, but somehow I feel like that's not going to look good on my resume. Though I am proud of these skills."
Miley-Dyer is in the process of obtaining double bachelor degrees in Communications and Law at the University of New South Wales. First, much respect cheating her way out of excess baggage fees. The airlines are way out of hand on this issue, but also good on her for getting those degrees. The article also focuses on Queensland junior pro, Chris Friend, who is currently working toward a Bachelor of Business by distance education through an elite athlete program at the University of Southern Queensland.
Surfers a generation ago used to at least read on down time. Facebook and Twitter have greatly diminished that (as well as ping pong, sadly.) But today's surfers have endless options when it comes to getting online degrees. An education alongside surfing resume isn't a terrible idea.