Nike has come a long way in skateboarding. The iconic shoe brand for nearly every sport under the sun have been skated by skaters for decades but it wasn't until the Nike SB campaign evolved that Nike made deep inroads into skateboarding. Now, with an amazing team, strong support from skateboarders and Nike's continual commitment to skateboarding (like sponsoring the Tampa Pro contest and contributing to several public skatepark projects), the brand is legitimately a juggernaut in our world. Seems only fitting that one of skateboarding's greatest of all time, Eric Koston, now has a spot on their team and pro shoe from Nike with his name on it.
WHAT IT IS:
Eric Koston's first pro shoe from Nike B is a deceptively simple, functional and stylish skate shoe. The shoe has a thin cup sole with good grip and board feel. The upper is constructed of TPU reinforced suede with stitchless lining construction. All the performance technology in the shoe is internal as opposed to technical skate shoes of the past whose bulky bells and whistles were both cumbersome and an eyesore.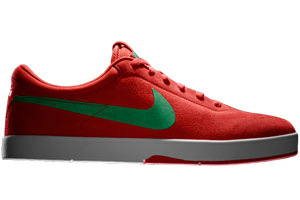 WHY IT RULES:
Koston's first shoe for Nike is cool for two definitive reasons: its stylish influences pull from Koston's long-time shoe collector knowledge of footwear, and the shoe's incorporation of Nike's Lunarlon, lunar foam midsole/sockliner makes for one of the lightest, comfiest shoes available.
Koston, a long-time shoe collector, brought many ideas to the table in designing his shoe for Nike SB. Prior to getting on Nike, Koston had several pro models for éS footwear and Lakai over the past decade. Koston's design ideas have borrowed inspiration from Nike several times, so the opportunity to work with Nike's team of designers was a treat.
"A lot of different Nike's have been the inspiration for my shoe designs over the last 12 years," says Koston. "So I feel like a kid in a candy store when it comes to my partnership with Nike."
The Lunararlon, lunar foam technology used in the midsole of Koston's shoe is specific to Nike, originating in their running category. Koston's shoe is the first in the Nike SB family to incorporate the light-weight and cushion-y substance.
WHERE TO FIND IT:
Several skateshops around the world carry Nike SBs. In fact, Nike's got a store locator on the Nike Skateboarding website.