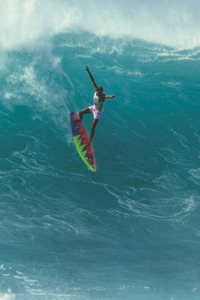 A few months back, I had the opportunity to interview Shaun Tomson, one of surfing's greatest ambassadors. When I had met or worked with Tomson in the past, I was always impressed. But that particular piece bought to light just how many worthy projects the guy has going on from revolutionizing boards for older surfers, to motivational speaking, to writing. Tonight, Tomson will be signing his book at the Simple Space, in New York City.
Tomson authored "Surfer's Code: 12 Simple Lessons for Riding Through Life," which was released in 2006. That same year, he lost his 15-year-old son, Mathew. He has added a chapter about, "Facing life's hardest challenges by looking toward the future and the light that shines ahead." With the new chapter, the book is being re-released as a paperback. Yesterday, he was on the Today Show.
Tomson will meet fans and friends tonight from 5-9 p.m. The Simple Space is Suite 601 of the New York Gallery Building, 24 W 57th St. NYC.