Freestyle motocross legend Mike "The Godfather" Metzger is in stable condition in intensive care after a crash in finals on Saturday night at the Sony Ericsson FMX Jam at Steel Arena in Bratislava, Slovakia. We caught up with him today by phone from his hospital bed where, in typical Metzger fashion, he was cracking jokes and looking forward to getting back on his bike.
"It was the very last jump of my run and, unfortunately, none of my gear bags or suspension came in time for the event so I was riding a completely stock KTM350," says Metzger. "I decided my last trick was going to be a big no-handed disco double can, but I caught the seat getting back on -- I had a stock seat on the bike, which is a little bit different from what I usually ride -- and, yeah, I basically caught my feet and ended up landing on the left side of my bike, then went into a high side digger to my left shoulder and ribs. Now I'm laying here with ten fractured ribs and a fractured collarbone and scapula. I'm sore!"
Metzger has been announced as a confirmed rider in the Moto X Speed and Style event at X Games 17, where he's hoping to add to an X Games collection that already includes three gold medals and two silver medals. How realistic is that prospect, given this weekend's injuries?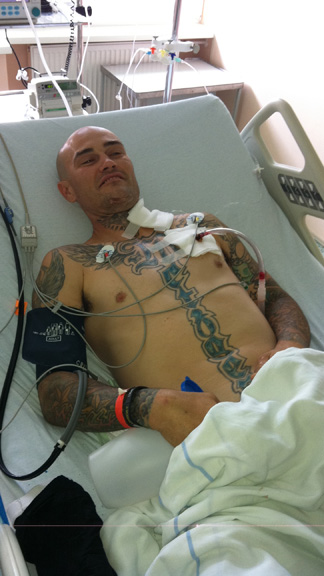 "Oh, I'd say it's very realistic," says Metzger. "Last year 10 weeks out from X Games I broke my right femur and shattered my right elbow, then still finished in 8th place in Speed and Style. I'll be back to normal in no time. I'm just trying to get as much rest as possible and let the good Lord do some healing. That's all I can do."
In addition to the stock bike, Metzger was riding in jeans, a t-shirt, and borrowed gear on Saturday -- "He was literally riding in the clothes he wore on the airplane, however he was wearing all his protective gear and borrowed knee braces and boots off Libor Podmol," says Metzger's agent, Lucas Mirtl -- but still managed to qualify for finals in sixth place. Metzger and Brody Wilson were the only American competitors in a field that also included Libor Podmol (Czech Republic), Remi Bizouard (France), Jose Miralles (Spain), Rob Adelberg (Australia), Ilkka Salo (Finland), Daice Suzuki (Japan), Martin Schenk (Austria), and Ondra Záruba (Czech Republic). Bizouard won the event, beating out Miralles for the top spot. Adelberg and Wilson tied for third place. Metzger finished in fifth place overall, despite his crash, and says it had otherwise been a great event. He plans to come back to compete again next year.
"I ended up qualifying on a completely stock bike and tried to put on a good show, bringing on a lot of old school tricks to entertain the crowd," Metzger says. "Unfortunately I went a little too big at the end, but I'm still walking, I'm healing, and I will be at X Games right around the corner."
Lest his fans think The Godfather's not afraid of anything, Metzger says he met his match when he was brought to the Slovakian hospital on Saturday night.
"I couldn't even tell you the name of this place, because I can't read the signs here," Metzger says. "I think it's the Torture Chamber of Hell Hospital. It's really wicked here, one of the worst hospitals I've ever been to in my life. When I got here I was pretty scared, and then when they brought me into the surgery room and decided they weren't going to put me under when they shoved this big sharp pointed tube down my throat into my left chest ...Let's just say I wasn't too stoked on it, that's for sure. I'm looking forward to getting the hell out of here."