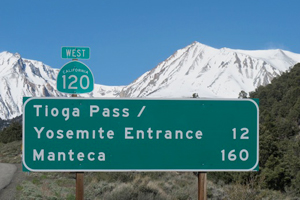 While most attention paid to the Eastern Sierra Memorial Day weekend was on its lakes and streams, thanks to multitudes of PowerBait posses descending with rods in hand, local snowboarders and skiers headed north after hearing those four magic words: "The pass is open."
Well ... enough of it is, anyway.
For those unfamiliar, California's Tioga Pass lies about twenty miles north of Mammoth on highway 395. Just before the ancient shores of Mono Lake, California State Route 120 breaks west for twelve miles of ascending rapture through Lee Vining Canyon before reaching the entrance to Yosemite National Park.
The steep grade of the pass, and impressive drops to the valley floor, are often punctuated with boulders littering the pavement. Little less than a strip of paint keeps texters and driving cats from plunging a couple thousand feet to an epic death.
Due to the fact that the road climbs to an elevation beyond snowplowing capabilities, suiciders and sightseers alike only have a few months each summer to seek their thrills. During the snowy months, the pass is closed.
But winter can't last forever -- though this season she's givin' 'er the old college try.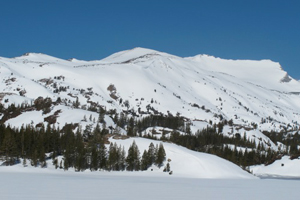 Usually by mid-May the length of the road will be plowed, providing a trans-Sierra traverse and one hell of a visual corridor linking Yosemite Valley to Mammoth in about three and a half hours. However, with a colder than average spring, road crews have had their work delayed by uncooperative weather and a sturdy snowpack, allowing only a partial opening. (California's budget problems surely haven't helped and there is even a rumor that Mammoth Mountain Ski Area donated some snow removal equipment to the cause.)
To backcountry skiers and snowboarders this matters little, though -- as long as the road is open to "the gate," or the East entrance to the park, they are more than satisfied.
What Tioga Pass provides is access. Instead of hiking through mud and sagebrush of most backcountry jump off points in the Eastern Sierra, on the Tioga you literally drive right up to the snow. And with this year's snowfall amounting to 600-700 inches, rest assured there will be shredding going on well into July.
Whether you are trying to grow a beard and talk to the marmots for a week-long split mission or are just looking to build a kicker off the side of the road, this area provides with whatever your head, heart or heels desire. So if you still have the itch, a fever or any number of the symptoms of withdrawal exhibited by your average snow junkie come summer, consider Tioga Pass and the Eastern Sierra before a premature intervention.