24-year-old Jed Mildon, a BMXer from New Zealand, will attempt a never-been-done BMX jump in his hometown of Taupo, New Zealand on Saturday. Hosted at the free-to-the-public Unit T3 Mindtricks BMX Jam, Mildon will attempt, what Unit Clothing's Simon Makker calls, "At least one world-first on what is arguably one of the biggest roll-in set-ups in the history of action sports."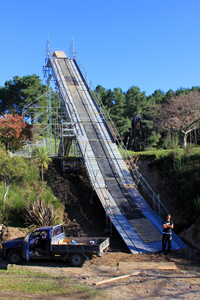 But Mildon isn't giving any secrets away just yet. Though we do know that a representative from the Guinness Book of World Records will be on hand to witness the spectacle.
The set-up includes a huge 18 meter roll-in cut into an embankment in a public recreational park, and an FMX-inspired super-kicker to a "Mega Mega Box" set-up. The kicker has been dug into the face of a hill to create a 43ft step-up to the Mega-Mega Box. And after spending the past three days practising on location into an airbag, Jed and his mates are feeling confident that they'll be able to create history.
According to Unit: "What's he planning? Well, he's keeping his cards pretty close to his chest, but we guarantee that whatever it is, all the pieces are in place for this to become one of those pivotal moments of BMX history."
We will have full coverage as it develops within the next 24 hours, but for now, check the spy photos and teaser video above. And good luck to Jed Mildon in the next day.
xgames.com