One more incentive to win Winter X Games medals: You get to compete with the world's best bass fishermen. That's how Olympic snowboarder Scotty Lago spent three days this week -- fishing Louisiana's Red River alongside the sport's best pros in the Walmart FLW Tour's Shreveport stop. Lago, an avid bow hunter and freshwater angler from New Hampshire, finished a very respectable 44th out of 140 entrants in the co-angler division.
Co-anglers fish from the back of a pro's boat, meaning their task is almost more difficult. "The pros get to fish all the spots first, so you're kind of doing cleanup," Lago said after his final weigh-in Friday night.
The trip was set up by AMP Energy, one of Lago's sponsors, as a reward for his winning two medals (with a wired-shut broken jaw) at WX 15. Over two days of tournament action, Lago caught five fish for a total weight of seven pounds, six ounces -- not enough to crack the top 20 and advance to Saturday's third round (he would've needed a weight of 10 pounds, three ounces to do that), but plenty to satisfy a guy who just finished his final film shoot of the season two weeks ago.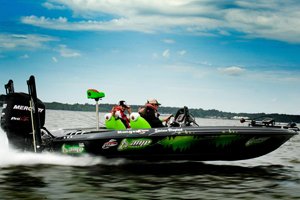 "I'm actually pretty happy," Lago said. "I had no expectations at all. I was just kind of down here fishing and relaxing. I had no clue about professional angling before this, but I'd watched [a few] on TV. I have a little more respect for professional anglers now."
Lago grew up bass fishing in ponds around New Hampshire, but it had been seven months since he cast a lure before this week's tournament. Well-known Arkansas pro Stetson Blaylock, another AMP-sponsored athlete, gave Lago some tips during a practice session on Wednesday, then Lago competed with two different pros Thursday and Friday. He caught three fish the first day and two the second, with the biggest being about three pounds. (The top pro caught 10 fish weighing 28 pounds, 10 ounces over the same two days.)
The scene was intense but entertaining, Lago said. "It's like a hint of NASCAR. They all have the most badass boat. And when your boat's called, you hammer the throttle. The pros have it pinned the whole time to get to their spots."
The biggest lessons Lago learned during his two seven-hour sessions? "Just get your line in the water as much as you can. And don't give up till the day is over," he said.
When asked if he got to keep his winnings or if he was fishing for charity, the 23-year-old snowboarder hinted at some bayou blues. "The money went to the Scotty Lago-in-debt-because-of-blackjack charity," he joked. "I was a little too close to the casino two nights ago."
xgames.com