Matix has been making solid skate clothes for over a decade now. With a team that includes Daewon Song, Torey Pudwill and Brandon Biebel the brand has always appealed to stylish and technical street skaters. When it comes to stylish tech, there are few, if any, that come as correct as Marc Johnson. Like everything that Johnson does on board, his signature clothing from Matix is always proper with great attention to detail. His signature jeans are on point.
WHAT IT IS:
Matix's Marc Johnson signature jean comes in a rusty brown, "java" wash with an aged enzyme treatment to the denim. They have that broken in feel and aged look of your favorite pair even before you've worn them to death. The brown coloring is classic Marc Johnson who is rarely seen in anything else and it can hide stains and dirt enough to get more than a few wearings out of it before you head to the laundry.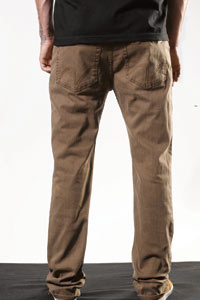 WHY IT RULES:
Marc Johnson's signature denim is 11 ounces in weight. It's made from 98 percent Cotton and two percent Lycra giving it the durability of traditional cotton denim but with the added flexibility that's helpful for modern street skating. Johnson's jeans have a classic fit with a 16-inch knee and a 16-inch leg opening. No ultra taperd jeans for MJ, those are for kids.
Essentially these jeans are classic and pretty timeless just like Johnson's skateboarding. They look good and are perfect to wear for skateboarding today, tomorrow or 10 years from now.
WHERE TO FIND IT:
You can find Matix clothing in most discerning skate shops but if your local shop doesn't have the Marc Johnson jeans, Matix has got a dealer locator on their site directing you to online retailers that will deliver their products to your door.