If you've seen any of Teton Gravity Research's films over the past six years, you've probably witnessed Ian McIntosh throwing down some of the rowdiest lines of the year. The competitor-turned-film-star stomps high consequence lines run after run, year after year. But last month McIntosh broke his femur filming with TGR near Juneau, Alaska. We recently caught up with him about finding the goods in Alaska, breaking his leg, and being humbled by the mountains.
Alaska had a rough season. Take us through how you guys ended up skiing where you did.
The TGR crew had planned to go to this new area in AK that had huge potential, but AK had been stuck in a freezing cold high-pressure system that had gone on for about 45 days or so. Along with this high pressure there were crazy relentless winds that pounded the whole state from the north. Whatever snow was there at the start of the season had been blown back out to sea. We needed to come up with a new plan and with word of some snow in the southeast part of the state we packed up and headed for Juneau.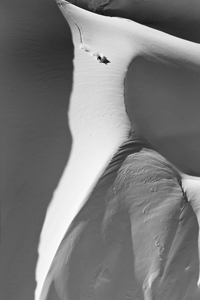 You've been all over Alaska, how does the terrain where you guys were this year stack up against some of the better known spots?
The terrain in this area was just as good as anywhere else that I've seen in the state. However areas like Haines or Valdez have more of this style of terrain. For us this was no problem because unlike those popular places we were the only crew out there and we didn't have to stress about some other crew hitting our lines. Also the feeling of finding and skiing first descents is indescribable and totally addicting.
So how did you break your leg?
We finally had a couple of good days of weather and we had been teeing off. I felt stronger and more confident than I have ever felt in my life. It's at this point when things become more dangerous than ever. On fire and feeling invincible, we headed to this face that morning that we had spotted the day before. This face was very steep and riddled with crazy sharp and fluted spines. I started the morning off with a gnarly line that I somehow managed to pull off. This only fuelled my confidence and when we went back up for round two I picked a line that had no room for error. I also made the mistake of not taking enough time to study the line and see the consequences if I didn't make it through the crux or had to bail out. The line started with a rollover so I couldn't see the crux until I was right on it. When I got to [the crux] I realized that it was not possible to go where I was planning, so I made the split second decision to bail out and hit an air to a shaded pocket that looked like it had good snow and a clean exit. When I landed it was rock hard ice. I almost pulled off the landing, but I couldn't hold it together and I started to tomahawk down a very rough sheet of ice. On the third or fourth tumble I felt my femur snap. After looking back at the photos I now realize that there was a frozen waterfall that rolled off the cliff and down the area where I had landed and tumbled. I didn't see it because it was covered by a very thin layer of snow and it was hidden in shaded, flat light. If I had taken more time to study the line I would have realized that my backup exit plan was actually a frozen death zone.
You're one of the world's most experience big mountain skiers. Do you feel like you learn from mistakes like this or are you just reminded of things you may have forgotten?
The mountains are always teaching me how small and fragile I truly am. When you feel as good as I did that morning the biggest challenge is to hold back. You start to forget what a dangerous world you're in and the consequences of a mistake. My desire to charge and ski the gnar sometimes clouds my brain. I would love to be the guy who always makes the perfect call and never makes mistakes but I'm not. The truth of the matter is that I love what I do, I love to push myself to new levels and there's a really good chance that I will get hurt again someday. All I can do is try to make the right calls.
What's your plan for recovering and getting back on snow?
This is not the first time I have been hurt and if there's one thing I'm really good at it's coming back from an injury stronger and a bit smarter than before. I've got all summer to get strong and my surgeon says I'll be 100 percent by October so I figure I can shave a month off that and be fully recovered by September.