France's Xavier de Le Rue likes going fast -- really fast. His "normal" clip would be terminal for most; when he decides to pin it, everyone's left squinting downhill. Jeremy Jones has even called him "the fastest snowboarder in the world." This speedy shredding is going down on some of the heaviest lines in AK or the Alps -- not your 9 a.m. groomers -- and, if you've seen the two-km avalanche he survived in '08, you'd probably pick up the pace, too...
For the last decade, the 31 year-old has more than made his mark competitively, winning the Boarder-X World Champs four times and, in Freeriding, another three in a row, yet his competitive strengths are nothing compared to his love for the mountains, and for speed in its purest form.
The only way you'll ever truly catch XDLR is in Jones's Deeper and Further; Standard; and his excellent Swatch Timeline webisodes every two weeks.
How do you know when you're going too fast?
To be honest, I can't really explain what could be the alarm in my head, it's more a feeling thing than a reflection. I guess [it's] only a matter of terrain not giving enough space or not providing good enough snow for some speed. It's rare that I get to the point where it's too fast.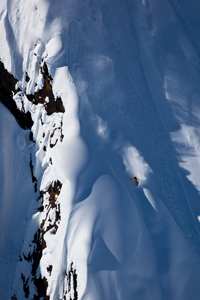 When I drop into a line, I normally start more or less gently and then build up according to what I find in terms of conditions and terrain. Once I reach some really high speed, it is sometimes better to just keep on going straight instead of putting that turn that could make you explode completely.
Fastest you've ever gone?
It's hard to say, but when I straight-line stuff, I usually like after a certain speed to spread out my arms a bit and then lean on the air. It's a really cool feeling and it definitely gives more control. Once you reach that speed, it normally doesn't get much faster.
You told me before that going faster gives you more time to think. Do you ride in some quantum world?
Quite often, going fast makes you float on the surface of the snow and that takes away some of the impacts of the terrain. Another really good reason is that going fast gives you a clear visual on some landings and that makes the decision process way easier. Last but not least, once you reach a certain speed, avalanches become way less of an issue, and that gives some space to think of other things.
What advice would you give to a solid snowboarder wanting to work on his or her speed?
A bigger board makes a huge difference. The terrain and snow quality reading will be really key and most of all, it's good to choose a line [with] a clean out-run. I think, anyways, that it's pretty easy to feel if you are under control or not.
How has this season gone?
This year has actually been fairly tough. In the last three years, I've had quite a lot of luck with all my trips, and the conditions, but this year I've been facing more the other side of the coin. No big deal, it's part of the game, but it's just pretty draining to travel across the globe and come home with that feeling of not having done the job. I've had the feeling that since early January in Japan, I haven't been riding those sessions where everything goes well with perfect conditions, where you can really push your riding to the max.
I miss that incredible feeling of arriving at the bottom of my line screaming my love for snowboarding. It will come though -- the season is not over.
You've said that riding in trees is a good way to work on your reaction times elsewhere. Can anyone keep up with you there?
I'm usually riding alone when I do these tree riding sessions, maybe because I like to stop at some point in the middle of the forest and listen and smell the woods. But it's maybe that I like to fire up sometimes and the best way to not have to wait is to go on my own. I'm not that wild though... I love sharing snowboarding, and especially that part of it that I love: tree riding.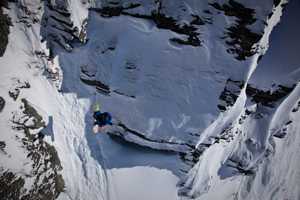 How important is your equipment, especially the stiffness of your set-up when you start hitting terminal velocity?
You will not believe me but when I ride I barely close my boots. And my board, although long when I hit big lines (167), isn't stiff at all. It's funny that everyone thinks that big speed and big jumps mean stiff boots and board. Whenever I ride new gear, especially the boots, it really takes me a while before I can feel comfortable. The stiffness makes me lose a lot of my feeling under the feet.
Why should every snowboarder reading this try and pick up the pace next season?
Because speed is so fun; to be safe; to reach that PlayStation state of mind where everything becomes so easy that it's almost magical.