Crystal Wright doesn't do much slowly. A former ski racer and a competitive rodeo barrel racer, the Jackson, Wyo. native, just wrapped up her fifth season competing on the Freeskiing World Tour. She won the FWT title in 2009 and this year, she placed second overall. When I interviewed Wright recently, in between her sessions as a trainer at Jackson's Mountain Athlete gym, she was confined to a walking cast for a broken fibula, which barely slowed her down enough to answer a few questions about her season and her upcoming plans.
I broke my fibula hucking Fat Bastard [a cliff in the Jackson Hole backcountry] at the end of the season. It's actually kind of funny. I'd wanted to do the cliff all year, but I had all these little injuries, so I waited, and then ... I broke my leg on the landing. I'm so lucky I didn't hurt anything else on that crash though. I've been strength training all year, so I had that extra strength and protection.
Before that happened, I wanted to push it at Kirkwood, but visual inspection got me. The landing looked steeper than it was ... so in the comp I actually took a 30-footer to flat and put a knee to my face. I was really paranoid skiing after that. And before that, in December, I broke some ribs; I got knocked off course and into a rock by slough. That one hurt. Skiing out was tough.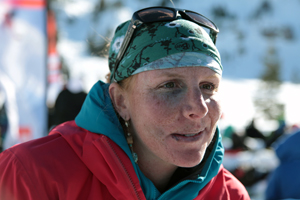 You think I'd learn as I get older -- I'm 29. But I keep getting more ballsy as I get older. This season I did learn a lot about what shock and adrenaline can do right after an injury.
Hopefully, I'll be back skiing in mid-May. I'm looking forward to ski mountaineering in the Tetons. I'm getting stronger now but I need some more time to heal. And I'm definitely going to South America this summer for the two tour stops there. I want to try to go for it for at least one more season.
I think I've had 21 or 22 podiums so far -- and 15 second places. It's like a big joke, now, how much I love second place.
I love the comps -- the people especially, and being on the podium instead of sitting around all winter to get a five-second segment in a film.
I'd like to spend a month in Chamonix next spring, getting more experience with glacial travel and technical ski mountaineering and climbing skills. That is the next path I would like to take with my skiing, and hopefully do some ski mountaineering trips around the world.