Travis Pastrana knows no limits. Okay, now that the generic cliché glorification of Pastrana has been cast, we're here to tell you that, well, the dude really has no limits. Want proof? How about the six-page fashion spread in the May issue of GQ magazine, which proves that even Pastrana's potential for instant hunkery is as limitless anything else he tries.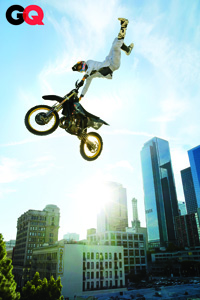 The images of Pastrana sporting the season's latest suit fashions with an unusually straight face were shot by legendary photographer Peggy Sirota. The accompanying article, by Josh Dean, serves up a 1000-word profile of Pastrana that follows him as he prepares for a "stunt" inside of a giant empty hangar on the Long Beach harbor. Dean hits on all the basics: the Nitro Circus 3D feature film, Pastrana's recently announced NASCAR bid, his record number of X Games medals, and injuries. It doesn't, however, go into any details as to what the "stunt" going down in the hangar actually was.
"I'm not allowed to tell you exactly what he's doing in there -- some of Pastrana's tricks are closely guarded secrets until the moment they're unveiled -- but I can report that it involved some bizarre preparation," states Dean in the article. "While set builders, engineers, and film-production people work busily in the background, Pastrana steps into a harness fitted with two bungee cords, which are attached to a five-story metal scaffold."
Our guess? Remember that triple backflip rumor going around? We're just saying ...
The issue is on newsstands through May 24, but if you just can't wait, the story and images can be found on GQ.com.