Adidas has been involved in skateboarding for longer than you may think. Even back in the 1990s, they were sponsoring guys including Mark Gonzales, Paulo Diaz and Quim Cardona. Today, they're a veritable force in the skate footwear market and who better be one of their marquee pros and have one of their few true pro models than Real skateboards' "Since Day One" star, Dennis Busenitz. The pro model Adidas developed for Dennis is a functional skate shoe steeped in Adidas' footwear history and is truly one of a kind in the skate shoe marketplace.
WHAT IT IS:
The Dennis Busenitz shoe is the first pro model done for the Adidas Skateboarding program but that doesn't mean it doesn't look a little familiar. The shoe took design cues from classic Adidas soccer models like the Samba and Copa Munidal while being retrofitted with details designed specifically for today's skateboarding.
WHY IT RULES: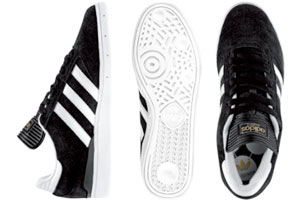 In a skate shoe market that seems to celebrate mimicry, the Busenitz shoe doesn't look like most shoes on the shelf. But that doesn't mean it isn't built just right for skating. The thin cup-sole give you solid board feel with a little more support than vulcanized shoes. Busentiz, a man of few words, that usually let's his impeccable skating do the talking had this to say about the kicks he wears on the daily:
"It's not designed by Martians and it's not another Half Cab."
The pointy-ish toe is perfect for flip tricks and you need look no further than footage of Busenitz to see this demonstrated excellently. A cushy insole and slightly recessed laces in the most breakable regions, rounds out the simple but effective functionality of the shoe.
The shoe does have a heel that's slightly raised from the toe that feels a bit different to skate in at first if you're used to flat cup soles or vulcanized shoes. However, a little breaking in and the heel difference isn't really noticeable anymore.
WHERE TO FIND IT:
You can find Adidas skate shoes at most discerning skate shops these days and the Adidas Skateboarding site even has a store locator section to help you out.